The new Cavaliers training facility, Cleveland Clinic Courts, will open today in a grand opening ceremony at 2:30pm.
The $25 million, 50,000-square-foot facility has everything a professional basketball player could want, including a massive workout area and locker room, two full-length courts, underground parking and around-the-clock availability.
The Cavs, will house all their basketball training in the new building in Independence, just south of downtown Cleveland on Interstate 77.
"We're very proud of it," assistant general manager Chris Grant said. "I don't think we've reinvented the wheel, but we really like the layout."
The workout room is 3,000 square feet, and that's not counting a large training room, a laundry room and a doctor's office that has a direct link to the Cleveland Clinic.
"It turned out great," Ferry said. "We're very happy with it."
The facility also contains a visiting locker room that can be used by opposing teams that are in town a day before a game, while the Cavs' massive locker room area almost defies description.
Key features:
Two adjacent regulation NBA courts with a total of 6 hoops
Extra large, strength and conditioning training area that over looks the playing court area.
Large theater-style team meeting room for video instruction with over-sized seating.
Three spacious locker rooms for Cavs players, visiting teams, and staff.
Underground parking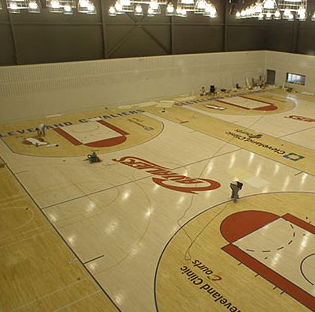 Source: The Chronicle-Telegram