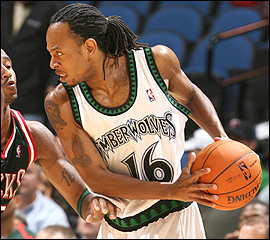 The latest free agent whom the Cavs have contacted with some interest is Troy Hudson.
The Minnesota Timberwolves announced yesterday that the team has requested waivers on guard Troy Hudson after reaching a contractual buyout agreement.
Hudson, a 10-year veteran who averaged 5.9 points and 2.1 assists last year, would play for the NBA minimum and is interested in coming to the Cavs.
"Troy would have great interest in the Cavs," said Bill Neff, Hudson's agent. "I hope they kick the tires on him and see if he can help."
Source: The Akron Beacon Journal