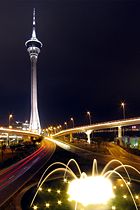 The Cavaliers and a party of about 100 people left Cleveland Hopkins International Airport late last night in an 18 hour trip to Shanghai.
The team will spend four days in Shanghai and play an exhibition game with the Orlando Magic.
Then team will spend four days in the southern gambling town of Macao and play another exhibition game with the Magic.
China Games Schedule:
Wed 17: vs Orlando @ 8:00am
ESPN2 and WTAM 1100
Where: Qizhong Forest Sports City Arena, Shanghai, China
Sat 20 vs Orlando @ 12:30am
ESPN2 and WTAM 1100
Where: Venetian Arena, Macao, China
Players and coaches will be involved in several community events promoting the team and NBA during the trip.
"I think is it a great opportunity, it will be a new experience for a lot of our guys," said James, who has been to China three times on Nike promotional trips and with Team USA.
Source: The Akron Beacon Journal