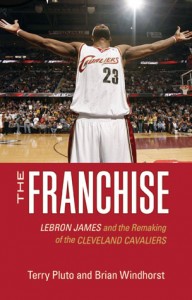 This year, the summer has started early for the Cavaliers. But that doesn't mean you have to wait until draft day or the pre-season to catch up on the Cavaliers and how they got to where they are now.
Terry Pluto and Brian Windhorst, in their new book, "The Franchise", give us an in-depth look at how a team and a city are being rebuilt around super- star LeBron James.
After Chicago won the first draft pick in this year draft, I realized how lucky we were in 2003 when we won the top pick. The city buzzed with excitement.
Four seasons later, we reached the NBA Finals and this season we lost to the best team in the NBA in seven games.
Pluto and Windhorst do a very nice job of providing background, insight, analysis, and perspective on recent Cavaliers history and their efforts to get a super start into this organization.
The book goes back to the trade that got Shawn Kemp and how they were able to dump his contract and get him out of town. Followed by the dismantling of the team, and the additional dumping of salaries in the hopes of getting James.
Also, an in-depth look into the shoe companies and how Nike, Adidas and Reebok did everything in their power to sign James.
This book is a must have for every basketball fan who wants the inside story of how LeBron James became the young superstar shouldering the weight of an entire NBA franchise.
– You can buy your copy here | Download a sample chapter here