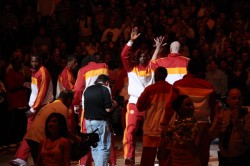 Although the prospect of teaming up Vince Carter or Shaquille O'Neal with LeBron James sounds exciting on the surface, in the long run Cavs' fans will be happy that those proposed/speculated/rumored deals did not happen; the trade deadline has passed without the Cavs making any moves.
The Cavs are 41-11 this season, 12 games ahead of their record at the same time in the 2007-08 season; even though last season's record is deceptively poor due to the Anderson Varejao and Sasha Pavlovic holdouts, it is obvious that the 2008-09 team has a better and deeper roster than any other squad in the LeBron James era. In order to acquire a big name player like Carter or O'Neal, the Cavs would have had to sacrifice a lot of that depth and that would entail a big risk, particularly considering the injury histories of those two players. While Carter could provide terrific scoring punch and O'Neal is obviously a huge presence in the paint, if the Cavs traded away several quality players and then their new star got hurt the Cavs suddenly would not be a viable championship contender at all. In contrast, the Cavs as they are currently constructed can survive an injury to any single player other than James.
It is also far from certain that Carter or O'Neal would fit in with the way that the Cavs play offensively or defensively. Carter is used to having the ball in his hands a lot and being isolated against his defender but the only person who is going to play that way for the Cavs is James; Carter would have to be a spotup shooter or else anchor the second unit and neither of those possibilities optimizes his talent. Although Carter is not as bad defensively as his reputation suggests, he is not as intense a defender on a nightly basis as Coach Mike Brown expects his players to be.
As for O'Neal, he notoriously clogs up the paint on offense, something which became a bone of contention both for Kobe Bryant in Los Angeles and for Steve Nash currently in Phoenix; for a short period of time in Miami, O'Neal accepted a reduction in his role in order to maximize Dwyane Wade's talents and win a championship but the delicate chemistry on that team soon imploded and the Heat endured one of the quickest and most stunning falls by any championship team that did not have its roster dismantled. If O'Neal is camped out on the left block then you can forget about seeing James swooping to the hoop and dunking, at least in the half court set; O'Neal on the block means James will be shooting more jump shots and that is the last thing that any Cavs fan should want to see.
Although O'Neal has a gregarious personality and made the most of being Bryant's teammate in this year's All-Star Game, O'Neal has had an acrimonious ending with every single team that he has played for in the NBA: he left Orlando on bad terms with Penny Hardaway and team management, he very famously left L.A. on bad terms with Bryant and team management and when he recently left Miami he did not speak highly of team management or the training staff that he alleged had not treated his injuries correctly. Team chemistry in Phoenix has noticeably gotten worse since O'Neal's arrival last year and the team has already gone through two coaches in his brief time there. This is not to say that all of these negative situations were entirely O'Neal's fault but it is beyond dispute that wherever O'Neal goes controversy is not too far behind, something that is not true of Tim Duncan, the other dominant big man who has won four championships in the post-Michael Jordan era.
Fans and even many so-called expert commentators do not seem to appreciate just how deep and well balanced the Cavs' roster is—and there is a difference between being "deep" and "well balanced." A "deep" team is one that has a large number of players who can competently play at least 10-15 mpg, while a "well balanced" team is one that has a large number of such players at each position. Consider the Cavs' depth chart: the main "bigs"—Zydrunas Ilgauskas, Ben Wallace and Anderson Varejao—play between 24 and 28 mpg, meaning that neither foul trouble nor fatigue is an issue. Also, rookie J.J. Hickson has shown that he can be productive in limited minutes.
Ilgauskas is a long player who is active on the boards, blocks shots, has a feathery shooting touch and is a good passer. Wallace is a four-time Defensive Player of the Year who is still a presence at that end of the court even though he has obviously lost a step. Varejao is an extremely active player whose energy and physicality make him an irritant to the opposing team. Ilgauskas can very effectively run pick and pop plays with James, while Varejao and James are a deadly pick and roll tandem, so much so that the Cavs run that action even in late, critical moments of playoff games. How many teams have a backup power forward/center who can be trusted to run pick and roll plays with the team's star in crunch time? It is important to remember that the goal of the pick and roll play is not always necessarily to free up the screener or even the man with the ball; the result may very well be an open shot on the weak side for someone like Mo Williams or Daniel Gibson.
At the wing position (small forward/shooting guard), the Cavs have James, Wally Szczerbiak, Sasha Pavlovic and Delonte West. Injuries to Pavlovic and West have made the Cavs a little thin here—which may explain why Carter's name popped up in trade rumors—but James will always play 40-plus mpg in the playoffs and in a pinch the Cavs can either go big by moving him to shooting guard or go small by putting him at power forward. Adding Carter at the expense of giving up multiple players would not make the Cavs deeper or more balanced, though they would have more pure talent in their starting lineup (assuming that Carter stayed healthy).
At point guard, the Cavs have All-Star Mo Williams, Daniel Gibson and West (who can play either guard position). Of course, James leads the team in assists and is the de facto playmaker. As noted above, depending on matchups, the Cavs have the roster flexibility to go with a big lineup or a small lineup in which the normal positional designations do not apply.
Once Pavlovic and West return, the Cavs will have 10 players who can competently play at least 10-15 mpg and they will enjoy superior depth at each position compared to just about any other team in the NBA. Would the Cavs like to add one more dependable big man? Sure–and so would the Celtics, the Lakers and just about every other team in the NBA. Who would not like to add a solid big man, particularly if this could be done without much cost? The Cavs still have until March 1 to acquire a reserve big man via free agency.
The Cavs already have a championship caliber roster and therefore it should not be tampered with lightly.