I Roc-a-Fella like Shawn Carter with more game than Ron Harper —Deadly Combination, Big L
Candace Parker, WNBA rookie superstar and first female Bballer to be seriously compared to the NBA, admires one player above all:
I respect Jordan — he is the king — but I would walk past Jordan to get Ron Harper's picture . . .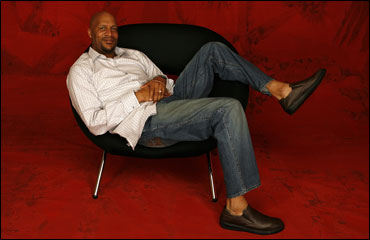 Hanging on Candace Parker's wall is a long way from recess in Dayton, Ohio, where Ron, struggling with a speech impediment, endured endless taunting. Even then, Ron's basketball skills spoke louder than words:
Since I was 5 years old, kids been making fun of me. But then they go out to the court for recess and it's like, 'I want Harp on my team, I want Harp on my team.' Nuh-uh. I ain't playing with you.
As so often happens, cruel kids became older, bigger, stronger, crueler:
He [Ron] kept close tabs on everybody who made fun of his stutter when he raised a hand to answer questions. He heard the snickers and giggles, and they hurt, even though Harper was the star basketball player at Kiser High School . . .
Harper didn't curse his antagonists. A part of him actually enjoyed the teasing because he was certain he'd get his revenge — during afternoon pickup basketball games.
"My friends used to laugh at me every day," Harper said. "But the first thing they would say when they stepped on the basketball court was, 'I got Ron.'
"I'd say, 'You're not on my team today because you laughed at me in class. So we are going to go at it.'"
Star player at Miami University of Ohio and Dayton native, no one was surprised when the Cleveland Cavaliers drafted Ron in 1986. Such a team. When you say the names out loud, voices become quieter, Clevelanders pause and wonder:
Mark Price, Brad Daugherty, Hot Rod Williams, Ron Harper . . .
Unbeatable? Listen and you will hear every single voice in Cleveland raised in the affirmative. Our year. Playoffs looming. Head over to Lottie Moon's in Oxford, order a Ron Harper All-Star, enjoy the cheeseburger with fried egg and get ready to hear a sad tale.
Ron Harper, one of six siblings raised by his mom, Gloreatha, took Miami University [Editor's note – the one in Ohio] by storm. Gloreatha saw it coming; an ex-baller now working multiple jobs to support her kids, she taught her son how to play hoops and the importance of education.
Chris Russell, writing in The Final Buzzer, remembers rookie Ron's first home game; Chris was a sophomore playing for Kenyon and Ron, well, Ron was already Ron:
As Harper pushed forward, with his eyes glued to the rim, I retreated as far as the foul line and decided to hold my ground. It was my belief that there were only three options; he could try to go around me, he could pull up and take the jump shot, or he could charge ahead out of control and make me look like the hero when I took the charge. Little did I know, Mr. Harper had a fourth option in mind, and that was to sail directly over me.
As Harper took off, I began to fall backwards, still in hopes of taking a charge. Instead, I saw a gifted bird flying above, and a ball propelling downward through the net on top of my head. Harper had not only performed the most amazing dunk that I have ever personally witnessed, but he also left his own personal McGregor exclamation point on my forehead. Even though the town of Oxford saw many similar dunks from Harper throughout the duration of his career, I am confident saying that no one remembers the first dunk that Mr. Harper threw down in a home game at Oxford quite as well as I do.
Ironically, Harper was not pursued by any other colleges. Sports Illustrated, in a 1986 piece profiling Ron during his senior year at Miami, explains:
At Dayton's Kiser High, his speech problem was complicated by a reading disability. Although as a senior at Kiser he made first team all-Ohio and was listed as one of the nation's top 50 high school prospects, Harper's speech problem and a marginal academic record kept most major college recruiters away. Not even hometown Dayton would take a flyer on him.
And then Miami stepped up, seeing in Ron an opportunity instead of a problem. Miami's speech therapy program, under then-director Dr. Paul J Malott opened Ron's eyes to the role of mentor, as opposed to victim, of tormentors.
"Ron had a great deal of confidence because of basketball," says Malott. "But like most stutterers he tried to get by saying as little as possible." While Malott couldn't totally eliminate Harper's stutter, he taught him to pace his speaking and also worked to improve his reading speed.
By his junior year Harper, a phys ed major, had improved and grown so confident that he had begun helping children with learning disabilities get over their difficulties. He developed a friendship with Kevin Reeves, a withdrawn first-grader who, says Harper, "reminded me of myself as a kid." Says Marilyn Young, the boy's teacher, "Kevin was a non-talker who just put his head down and picked his fingers." During the class one day, Young detected giggling coming from the back of the classroom. "It was Ron and Kevin, on toy scooters, face-to-face, laughing." They see each other at least three times a month, and Kevin goes to many of the Redskins' home games. Says Harper, "Just by having a chance to work with someone, I learned that I could actually help somebody. Before, it was always me who needed the help."
Here's the part that makes me cry. Kevin, the little boy mentioned by Sports Illustrated, never said a word in class until he met Ron. And then he only communicated with sounds; laughs, giggles. Until Christmas, when he perched on Santa's lap and said the first words his teacher ever heard him utter; he asked Santa to bring him a basketball. (Source: The New York Times, January 22, 1986)
Ron's spectacular college career left a lasting impression on his coach:
There's no doubt in my mind . . . that Ron is the best player to ever put on the Miami uniform. (Source: The New York Times, January 22, 1986)
Sound fundamentals:
24.5 scoring average leading the Mid American Conference (M.A.C.)
Second in rebounding (10.2) and blocked shots
Leads the conference in steals (45)
and this is important to Miami and the Mid American Conference (M..A.C.). Ron acknowledges this traditional mindset, resets the bar and brings on the flair.
Harper, who also leads the M.A.C. in slam dunks, is a showy player on a team on which fundamentals are stressed. He is a high-stepping drum major in a muted marching band. (Source: The New York Times, January 22, 1986)
Miami Redskins fans also thought outside the box in 1986; two local disc jockeys, with the help of some cheerleaders, crafted a rap in honor of Ron breaking the M.A.C.'s scoring high of 2,109 points.
Jump up, turn around, up off the ground/This is Harper Valley/Slam-bam. Two more, coming back to even the score/This is Harper Valley.
The song caught on; WOXY-FM, an Oxford, Ohio, radio station which at the time broadcasted Miami University football, basketball and hockey games, not only gave it air time, they pressed 700 copies to sell for $2 apiece, proceeds slated for a Miami University children's speech and hearing impairment clinic.
According to a February 1986 article in the NY Times:
Harper himself was not involved. Indeed, the station never even spoke to him about the project, laying what it thought were careful plans to protect him from even a hint of anything that would jeopardize his eligibility.
Ron, however, was about to learn (again) that life isn't fair. You get past the taunts, the stutter, the nerves, the insecurities, but you aren't going to get past the NCAA, an organization with myopia in certain areas but eagle eyes for the do-gooders:
The goal may have been charitable, but when Athletic Director Richard Shrider queried the N.C.A.A., the answer was that "Harper Valley" violated the rules on commercialization. "The athlete's name is used in a song," says Tom Calder of the association's legislative-services branch, "the song is played on the radio, and the radio station is a commercial enterprise." Which meant everything was scrapped – not only the sale of the recording, but also its air play.
It was Shrider, mindful of the one-game suspension that the N.C.A.A. dealt Steve Alford of Indiana two months ago for allowing his photograph to appear on a charity-related calendar, who persudaded WOXY to stop playing "Harper Valley." In an interview yesterday, Shrider would not so much as acknowledge that the N.C.A.A. had no power to dictate policy to a radio station that has no formal ties to the university. Doug Balogh, the station's owner, said: "Am I convinced the N.C.A.A. has jurisdiction over a commercial radio station? No, I'm not. But we have a close relationship to the university, and that takes precedence. To win a battle but lose the war doesn't make sense."
Score one for the NCAA. If anyone's going to exploit athletes, it's going to be them, not some charitable institution.
Skills further honed, confidence at an all-time high, Ron graduates from Miami and is chosen by the Cavaliers as the 8th draft pick in 1986. If you live in Cleveland, you know what happens next. If you don't live in Cleveland but know Cleveland sports, you can guess what happens next; if you don't live in Cleveland and know nothing about Cleveland sports, pay attention. Ron Harper's story sums up decades of longing and frustration:
Some rookies stumble out of the gate, but not Ron Harper … [who] proved he could have played at any major university … 22.9 scoring average . . . 16th in the NBA in scoring and fourth in steals (2.55 per game) … The league rewarded him with a spot on the NBA All-Rookie Team, and he was second only to the Indiana Pacers' Chuck Person in the NBA Rookie of the Year voting … Cleveland was a sizzling 25-16 on its home floor . . .
Year one is heaven.
Year two is reality.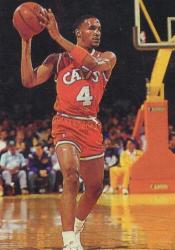 The Cleveland Cavaliers opened the season with a 114-108 victory in New Jersey against the Nets … But the next night against the Hawks in Atlanta, Harper severely sprained his ankle an injury serious enough to keep him out until late December … Harper played in only 57 games this season, averaging 15.4 points … Despite the injury, Harper led the Cavaliers in steals (122) and was third in assists (4.9 apg) … He was at full strength for the playoffs, knocking down 30 points in Game 4 of a first-round series with the Chicago Bulls … In Game 5 Michael Jordan reeled off 39 points, and the Bulls moved on with a 107-101 victory
NBA.com relays the Game 5 information sans emotion. Clevelanders, however, will never forget "The Shot":
It is known, in Chicago and especially in Cleveland, as "The Shot." It was replayed on television hundreds of times, to the agony of Cleveland fans and the ecstasy of Bulls supporters. It was only one basket, yet it played an integral role in the fortunes of not one but two NBA franchises.
The Cleveland Cavaliers were one of the NBA's best young teams in the late 1980s . . . and appeared poised to challenge for the NBA title.
In their way stood the Chicago Bulls, a young team led by Michael Jordan that was just beginning to mesh into the unit that would dominate the NBA in the 1990s. The Bulls had finished fifth in the powerful Central Division with a 47-35 record, but they had beaten the Cavs in a five-game playoff series the year before and were matched up against Cleveland once again.
Chicago stole the home-court advantage in the best-of-5 series by winning the opener 95-88 and could have closed out the set at home, but Cleveland rallied for a 108-105 overtime win in Game 4 to set up a deciding game in Cleveland.
It came down to the closing seconds, and as he would so many times in his career, Jordan had the ball with the game on the line. Starting from the right side, Jordan dribbled toward the key and rose up for a jumper from inside the circle. Craig Ehlo, one of Cleveland's top defenders, leaped out to block the shot, but Jordan seemed to hang in the air until Ehlo was out of his way, then released his shot. As the ball nestled through the net, Jordan pumped his fists in jubilation, completing a video highlight for the ages.
Two years later, the Bulls won the first of five NBA titles they would win from 1991 through 1997. Cleveland, meanwhile, has yet to reach the NBA Finals.
Year three is tantalizing. Nothing like Playoffs potential to whip a town into a frenzy.
This was Harper's final full season in Cleveland, and it was memorable … He started all 82 games and notched the first triple-double of his career on January 31 against the Philadelphia 76ers, totaling 25 points, 10 rebounds, and 10 assists … He made his second appearance in the Slam Dunk Championship during the NBA All-Star Weekend in Houston and finished in seventh place … For the year, Harper averaged 18.6 points and a career-high 5.3 assists, shooting a career-best .511 from the floor … He led the Cavs in minutes played (2,851), field goals (587), and steals (185), then averaged 19.6 points in the postseason. However, after winning 57 regular-season games, the Cavaliers were upset by the Chicago Bulls, three games to two, in the first round of the playoffs.
Ken Denlinger, writing for The Washington Post:
So bad for so long, historically dreadful very likely, they [Cleveland Cavaliers] never seemed capable in any lifetime — including God's — of achieving:
The best record in the NBA nearly halfway through this regular season; the distinction of being one of only three teams with a winning road record; the simple feat of forcing anyone into overtime, as happened here Sunday against the Bullets. And with a Yalie at center a good deal of the time.
Longtime Cavaliers watchers were stunned at Ron Harper once rising off the floor just inside the foul line and not landing until he had finished a net-scorching dunk. (Source: The Washington Post, January 30, 1989)
Year four dawned and before Clevelanders were fully awake, Gordon Gund declared the nicest athlete Syd Young ever met morally unfit for the Cavaliers. Jeff Sack laments:
In an interview I had with Joe [Tait] a few years ago on the radio, he told me that former Cavaliers owner Gordon Gund wanted Harper traded because of the crowd he was hanging with. Former Cavaliers head coach Lenny Wilkens who was heart broken by the trade said it was guilt by association. Bottom line was Harper was gone along with two future first round picks and a second to the Los Angeles Clippers for Reggie Williams and the draft rights to Danny Ferry. Although the Cavaliers would make it to the Eastern Conference Finals against Chicago in 1992, they were never able to recapture the chemistry they had with Harper. And for Danny Ferry what would prove to be an Odyssey for the next 10 years, had only just begun.
[Editor's note: Joe Menzer and Burt Graeff provide an in-depth look at the events leading up to the trade in their book CAVS: From Fitch to Fratello.]
Ron Harper, kind and gentle off the court up to the moment of accusation, left Cleveland for the LA Clippers and continued a stellar life and career, earning 5 championship rings before he retired.
In January of 1990, not longer after arriving in California, Harper was named NBA player of the week. Ironically, he tore his ACL driving for a shot the following week. USA Today declared the playoffs "a long shot" for the Harper-less Clippers. Coach Don Casey:
". . . the players have a winning frame of mind," coach Don Casey said. "Ron enhanced that. Now, everyone has to go up a notch . . . It just shows you how frail this business is." (Source: USA Today, January 18, 1990)
The business may be frail, but the "Jordan-like" Ron underwent reconstructive surgery and reinvented himself as a consistent role player, leaving the Clippers to play alongside Michael Jordan for Phil Jackson's Bulls and then following Phil to the Lakers.
When Jordan retired, Ron sighed. Three rings, 3 teams, 2 NBA careers – the young, flashy, dunking Ron and the post-surgery perfect role player Ron. Maybe it was time.
While most of his teammates speak to the media from seats or podiums during practice, Ron Harper . . . walks straight to the scorers' table and stretches his 6-6 frame out on it.
Lying down, Harper talks to reporters wearing shades and a fisherman's hat and with his hands behind his head as if he were relaxing on a beach or on his living-room couch.
"I hate talking to him [Michael Jordan]," Harper said this week. "I say 'Whatcha doing?' And he says, 'I'm playing golf right now, man.' Playing golf? I'm in the gym, on the floor, playing basketball, while he's out there enjoying himself. I think I should be enjoying myself, too. I think about retirement every day. I think about how it would be to go hit the sun, hit some (golf) balls."
"I ain't supposed to be still playing here," added Harper, who has had several surgeries on his knee and ankle. "Why am I still around? ACL, old, I can't shoot, I can't do this no more, why am I still around? I've fooled everybody. I'm a con artist."
Phil Jackson, index fingers firmly planted in his ears, murmuring "I can't hear you," whisks Ron to LA and more triangle offense. Which works. Plus, who else is going to explain champagne to the youngsters?
Ron Harper and Kobe Bryant are sitting in a small room tucked somewhere in the hollow underbelly of the Staples Center in Los Angeles, a few hours after the Lakers defeated the Pacers in Game 6 of The Finals to clinch this season's title. Bryant is on Harper's lap, laughing, taking short slugs out of a bottle of Korbel champagne. Bryant, who turned 21 last August, is not much of a drinker, and the champagne is going to his head. He pours some on Harper, who, having experienced three NBA championship celebrations in his career, has the good sense to close his eyes as it drips over his face.
Bryant then decides to douse himself, letting the champagne roll over his forehead. But he has not closed his eyes, and when the bubbly hits his sockets, it does not take long for him to realize this was an unwise decision. His face crinkles tight. He rubs his eyes. The joy of an NBA title is interrupted by this brief bout with blindness and pain before someone comes to the rescue with a black Lakers' T-shirt, which Bryant uses to clear his eyes.
Consider this championship lesson No. 1 for Bryant: When immersing oneself in celebratory booze, be sure to keep one's eyes closed.
"Man, I'm all sticky," Bryant says. "And don't get it in your eyes. That stings. That stings bad." (Source: The Sporting News, July 3, 2000)
Ring #4. When is enough enough?
The only thing that can bring an old guy back is for one more ring. (Source: New York Daily News, June 17, 2000)
Ring #5, on the court, after the penultimate game:
When the Lakers won the title last season, Harper and [Phil] Jackson shared a moment amid the madness on the Staples Center floor. With confetti showering them, Jackson put his arm around Harper. Harper asked if he could retire, and Jackson said, "You know you're coming back, Harp."
Now Harper says: "So tomorrow night if we can do it again, I can go to him, hug him again and say, 'Can I retire now?' And then he'll probably go, 'Please do."'
In 2001, five rings jingling, Ron Harper quietly retired.
____________________________________
____________________________________
Testimonials
Brad Daughtery compares LeBron James to his friend and former teammate:
"He's a lot like Ron Harper," said Daugherty, who retired after the 1996 season as the team's career leader in points, rebounds and free throws. "That was the missing link. That's what we needed. When we traded Ron Harper [in 1989], that's what broke our backs. We never recovered from that. We never could. Michael [Jordan] always said that was the best thing that ever happened to him was when we got rid of Ron.
"You look at LeBron, he's a lot like Ron. He probably doesn't shoot it as consistently as Ron, but he's a lot bigger and stronger than Ron. Ron could get to the basket and finish very well, but LeBron's even stronger. He can finish even better. We'd have found a place for him." (Source: Plain Dealer, May 2, 2007)
Cleveland fans never forget. Listen to JayInEuclid, posting on a Cavs fan forum in early February of this year:
Please Danny Ferry, help us feel less bitter about the Ron Harper trade and make something happen before the deadline…JayinEuclid
Asked by the Plain Dealer in 1995 to reflect on what might have been, Ron replied:
Johnny Newman, Larry Nance, Craig Ehlo, Hot Rod, Mark … We were supposed to win it all . . . That team will forever be known as the 'What if' team. (Source: Plain Dealer, Cleveland, Ohio, October 14, 1995)
____________________________________
____________________________________
What public statement cost Ron Harper $48,780?
I'm just doing my jail time. In about 65 or 70 more days, my time is up, and I'll be out on G.B., good behavior.
The Clippers suspended Harper for one game.
____________________________________
NO BREAKFAST CLUB IS MORE EXCLUSIVE. Early most mornings, Scottie Pippen and Ron Harper pull into the driveway of Michael Jordan's mansion in the posh Chicago suburb of Highland Park. His chef offers eggs, bacon and juice. Next on the menu is a brutal workout in Jordan's capacious gym: basketball, free weights, the works. Around 9:30, it's off to the Bulls' Deerfield practice center, where coach Phil Jackson calls their shots. After this season, though, each of the Three Basketeers–they all wear identical earrings, platinum hoops encrusted with diamonds–may be dining alone. "I'd like to stay here if my friends were going to be here," Harper says. "But they're not."
____________________________________
Ricky Rubio has been compared to the young Ron Harper.
____________________________________
I do remember one birthday present, though, and, of course, it had to do with basketball. I was maybe a junior in high school, and I got a pair of Converse shoes . . .Everyone wants Nike or Adidas now, but I'm telling you, Converse was the hottest shoe back then by far. So I got a pair of Converses and I think cherished those more than anything.
____________________________________

Played football senior year of high school.
____________________________________
Once met "Victor Newman" – yes, that Victor Newman.
"I don't watch sports," says Chicago Bull guard Ron Harper. "I do sports for a living. Soaps relax my mind and keep me out of trouble."
Immediately after meeting Braeden on an L.A. street a few years ago, Harper called his mother. "Mom flipped out," he recalls. "She said, 'You didn't really meet Victor Newman!' I said, 'Yeah!' It was hard to tell who was more excited. (Source: Sports Illustrated, August 7, 1995 Interview by Franz Lidz)
____________________________________
Appeared on Kenan and Kel, playing himself. Plot: He went into Rigby's and was injured after sliding on a puddle of orange soda spilled by Kel, causing anger toward Kel (and Kenan) by the townspeople. Kel and Kenan asked Ron to forgive them, but Ron simply said to go away. Later, Ron told the media to stop harassing Kenan and Kel, and that when he slipped on orange soda, it was entirely his fault.
____________________________________
The new [September 2006] Kiser Elementary School named its gymnasium after Harper, who starred on the Kiser High School basketball teams of the early 80's.
Wayne Hounshell, the former Kiser athletic director, presented Harper's framed No. 34 high school jersey — "Its been in my closet for 24 years" — to the school so it can be displayed.
Ron shook hands with each student and promised tickets to an NBA game for everyone with perfect attendance and good grades.
"I won five NBA championship rings, but this means far more than that because this is where it all started. … Don't let anyone tell you what you can't do in life. Right here is where I started chasing my dream."
___________________________________
Ohio Basketball Hall of Fame
Ron Harper was the third Miamian inducted into the Ohio Basketball Hall of Fame (May 19, 2007).
In 2006, former Miami head coach and athletics director Dick Shrider and Miami's first men's basketball All-American and Naismith Basketball Hall of Famer Wayne Embry were inducted into the inaugural Ohio Basketball Hall of Fame Class.
____________________________________
____________________________________
Miami University
Mid-American Conference Player of the Year (1985 and 1986)
Second-team All-American (U.S. Basketball Writers Association, Associated Press,
United Press International, and the National Association of Basketball Coaches, 1986).
1986 District IV Player of the Year (USBWA).
Finished collegiate career as the MAC's all-time leading scorer
First player in conference history to record a triple-double (38 points, 19 rebounds and 12 assists against Ball State in 1986.)
First player in league history to top 2,000 points and 1,000 rebounds (2,377 career points and 1,119 career rebounds).
As of May, 2007, Ron was the second all-time leading scorer in MAC history.
First player in program history to have his jersey (No. 34) retired (during his final home game at Miami in 1986).
Owns or is tied for 19 Miami records, including points in a game (45) and career (2,377); field goals in a game (19), season (312), and career (969); rebounds in a career (1,119); and steals in a game (7), season (101) and career (287).
Inscribed the word DEFENSE on his left sneaker and DUNK on his right one because, he says, "those are the things I do best."
___________________________________
___________________________________
NBA
Ron Harper, Dennis Rodman, John Salley, Steve Kerr and Robert Horry are the only players to win multiple NBA Championships with two different teams. Interestingly, Rodman (Chicago Bulls 1996-1998), Salley (Chicago Bulls 1996 and Los Angeles Lakers 2000), Kerr (Chicago Bulls 1995-1998) and Horry (Los Angeles Lakers 1999-2001) were teammates of Harper.
___________________________________
Averaged 22.9 points per game in his rookie season
___________________________________
5 championship rings (3 with Chicago Bulls and 2 with Los Angeles Lakers)
___________________________________
Detroit Pistons assistant coach for 2 years, beginning in 2005
___________________________________
___________________________________
Member of the Lakers 2000 NBA championship team, starting in all six games of the Finals and averaging 10.8 ppg
Hit the game-winning bucket with 29.9 seconds remaining, lifting the Lakers to a 93-91 win at Portland on 5/26 in game 3 of the Western Conference Finals
Member of three consecutive Chicago Bulls NBA championship teams from 1996 to 1998
Has appeared in 106 career NBA Playoff games, averaging 9.4 ppg, 3.9 rpg and 2.8 apg
Recorded his 1,500th career steal against the Detroit Pistons on 2/15/98
Totaled a 1997-98 season-high 21 points, hitting 4-of-7 three-pointers, and 8 rebounds against the Detroit Pistons on 1/3/98
Has been named NBA Player of the Week three times (2/5/89, 1/6/90, 1/30/94)
Led the Clippers in scoring in 1993-94 with 20.1 ppg and lead the team in steals in 1991-92, 1992-93 and 1993-94
Averaged 19.6 ppg, 5.4 apg and 4.8 rpg in 39 games for the Clippers in 1990-91 after suffering a torn anterior cruciate ligament on 1/16/90
Named to the 1986-87 NBA All-Rookie Team, averaging 22.9 ppg, 4.8 rpg and 4.8 apg, and was the runner-up in NBA Rookie of the Year balloting
___________________________________
___________________________________
Videos
(begins with 1986 draft then goes to play montage)
(Ron Harper hosting)