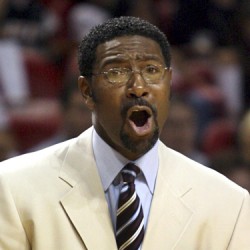 Only 17 games into the season and another team pull the trigger and fire their coach. Today, the Toronto Raptors fired coach Sam Mitchell one day after an embarrassing (132-93) loss at Denver.
"Obviously, last night's game was just an absolute kick to the gut," General manager Bryan Colangelo said. "When you look back, it's a culmination of things. Expectations are high. We want to win."
In four-plus seasons with the Raptors, Mitchell led Toronto to a franchise record 47 wins and the Atlantic Division title and went 156-189.
"I have a lot to be thankful for, they really gave me the opportunity to have a career in coaching, something I always wanted to do after I played," Mitchell told Canadian sports network TSN. "So yeah, it's a disappointment that I really wasn't given the chance to finish what I started, but you know what, I feel like I accomplished a lot of good things. I think the players that played for me all got better."
Assistant coach Jay Triano will coach the Raptors for the rest of the season.
Mitchell is the third NBA coach to be replaced this season. Oklahoma City fired P.J. Carlesimo and Washington dismissed Eddie Jordan last month.