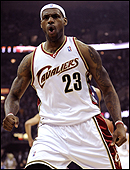 Lebron James wasted no time illustrating why he won the MVP – crushing home a baseline dunk to open the game. Lebron continued to set the tone, going 5-for-6 from the floor for 16 first-quarter points.
James led the team in scoring raining down 34 points, 22 in the 1st half, and adding 10 boards, in only 34 minutes as the Cavs pulled out an impressive 99-72 game 1 victory over the Atlanta Hawks.
Cleveland's starting backcourt matched LeBron's point total of 34 with Mo Williams scoring 21 (four 3's) and Delonte West adding 13. The game was close throughout the entire 1st half with Josh Smith scoring 17 helping the Hawks stay within 5 points and a halftime score of 49-44.
It was obvious the Cavs had not played in a while (9 days) but as the game went on the Cav's regained their game leg's and never looked back. Mo Williams and the rest of the Cavaliers turned up the heat in the second half and outscored the Hawks 50-28 while allowing only 11 fourth quarter points.
"Tonight our guys really locked and focused going into that fourth knowing that that's where a lot of the games are decided," praised Brown. "We feel like we can score on, if not all teams, most teams in the NBA. In the playoffs, if you can make your mind up and go out there and defend, you're going to give yourself a doggone good chance to win."
[youtube width="400″ height="243″]http://www.youtube.com/watch?v=MendP4inwoI[/youtube]Nuggets run past Mavericks in Game 2, take lead 2-0 lead

Mavericks 105 at Nuggets 117
The Dallas Mavericks toughened up and clamped down Tuesday night, and it still wasn't enough to beat the high-flying Denver Nuggets. Carmelo Anthony led another fourth-quarter blitz by the Nuggets, who overcame Dirk Nowitzki's 35 points and more hustle and muscle from the Mavericks for a 117-105 victory. The Nuggets are up 2-0 in their best-of-seven series. Anthony scored 15 of his 25 points in the fourth quarter, Nene scored 25, J.