Cavaliers roll past Pistons in Game 1:
(Pistons 84 at Cavaliers 102)
LeBron James crossed midcourt and launched the ball toward the basket more than 40 feet away as the horn sounded. As Cleveland's star, the Detroit Pistons, 20,000 fans and a TV audience watched the shot's arching flight, James never stopped running. "I was going to chase it until it went in the hoop," he said. Off the backboard, through the rim, then the net. It was halftime. It was over. James banked in a stunning 3-pointer at the end of the first half and finished with 38 points, eight rebounds and seven assists as the Cavaliers embarked on their quest for a first NBA championship with a 102-84 win over the Pistons in Game 1 on Saturday.
Bulls Stunned Celtics in OT:
(Bulls 105 at Celtics 103)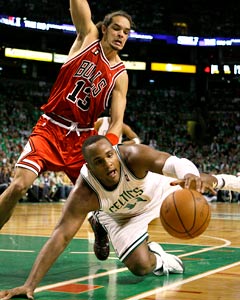 Derrick Rose had a playoff debut like few others and led the Chicago Bulls to a victory over the Boston Celtics in the playoffs. Not even Michael Jordan did that. Rose matched Kareem Abdul-Jabbar's record with 36 points in his playoff debut, adding 11 assists to lead the Bulls to a 105-103 overtime victory over the defending NBA champions in Game 1 of their best-of-seven first-round series. Playoff experience? "He doesn't need it," Bulls guard Ben Gordon said.
Chicago had not beaten the Celtics in 10 post-season games since the Chicago Stags topped the Celtics in the 1948 Basketball Association of America quarter-finals.
Game 2 is Monday night in Boston, the anniversary of the 1986 playoff game when Michael Jordan scored 63 points against Boston – in a Chicago loss.
Mavs Pull Off Road Win:
(Mavericks 105 at Spurs 97)
Getting a postseason road victory for the first time since their NBA finals run in 2006, the Mavericks rode Josh Howard's 25 points and a clutch fourth quarter to start the playoffs with a 105-97 win over the San Antonio Spurs on Saturday night. The sixth-seeded Mavericks, who had lost nine consecutive playoff road games, took a big Game 1 win over their Texas rivals in typically tough San Antonio.
Rockets out muscled Blazers:
(Rockets 108 at Trail Blazers 81)
Coming out strong against the Trail Blazers was the first step of a very logical progression for Yao Ming. "Because this was the first game, and also the first couple of minutes of the first game – the first couple of minutes can set the tone for the game, and the first game can set the tone for the series," Yao said. The 7-foot-6 Yao scored nine of Houston's first 11 points and finished with 24 in the Rockets' 108-81 victory over the Trail Blazers on Saturday night.