Iguodala Sinks Magic
(76ers 100 at Magic 98)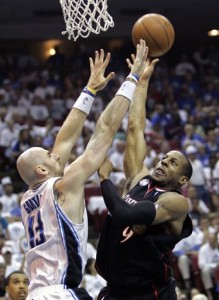 Andre Iguodala made a 22-foot jumper with 2.2 seconds left, and the Philadelphia 76ers rallied from an 18-point deficit to stun the Orlando Magic 100-98 in Game 1 of their opening-round playoff series Sunday. Iguodala had 20 points, eight rebounds and eight assists, and Louis Williams scored 18 to help the 76ers beat the Magic for the first time in four tries this season – and when it mattered most. Hedo Turkoglu's fadeaway 3-pointer missed at the buzzer, and Magic fans stood in disbelief before filing out quietly.
Lakers coast to victory over Jazz:
(Jazz 100 at Lakers 113)
Pardon Phil Jackson's lack of enthusiasm for how the Los Angeles Lakers played in the second half. They piled up 62 points on Utah in the first half, then got outscored over the final 24 minutes. "It wasn't a coach's delight, that's for sure," he said. But his players sure liked the outcome, a 113-100 victory over the Jazz in the teams' playoff opener Sunday. Kobe Bryant scored 24 points, Trevor Ariza added 21 and Pau Gasol 20 as the Lakers pretty much had their way against the eighth-seeded Jazz.
Hawks hammer Heat to take game 1:
(Heat 64 at Hawks 90)
Aware of the upsets all around, the Atlanta Hawks really buckled down. They'd worked too hard for home-court advantage to let it slip away on the first night of playoffs. With Josh Smith delivering one rim-shaking dunk after another and plenty of teammates chipping in, the Hawks made Miami look like a one-man team, running Dwyane Wade and the Heat ragged for a 90-64 blowout in Game 1 of their Eastern Conference series Sunday night. Four other home teams – Boston, Portland, San Antonio and Orlando – had already lost about the time the Hawks took the court.
Nuggets overpower Hornets in game 1:
Hornets 84 at Nuggets 113
Chauncey Billups settled down his teammates, then stepped up his game. Billups scored 36 points and sank a career-best eight 3-pointers in leading Denver to a 113-84 rout of the New Orleans Hornets, the second-biggest blowout in the Nuggets' playoff history. "I just got it going. It's just one of those special nights that you have sometimes," Billups said after his first postseason appearance in his hometown. "You'd like to think you can do it again, but you probably can't.