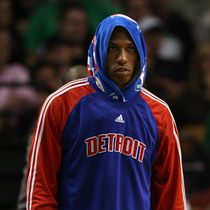 Allen Iverson has been traded from the Denver Nuggets to the Detroit Pistons. Chauncey Billups and Antonio McDyess went to Denver. After last season loss to the Celtics in six games, Joe Dumar promised for a shake-up and now he's made it happen. The trade brings a lot of questions, is the Pistons going to try to win a championship with Iverson or is this the beginning of the end?
Iverson is now 33. His contract is up at the end of the season. The pistons can dump $22 million this summer. Rasheed Wallace's $14 million contract is also up at the end of the season. Joe Dumar can set the team for the lucrative summer of 2010 which will inlcude Lebron James, Dwyane Wade, Chris Bosh, Amare Stoudamire, Carmelo Anthony, Ray Allen, Tyson Chandler, Manu Ginobili, Richard Jefferson, Joe Johnson, Tracy McGrady, Yao Ming, Steve Nash, Dirk Nowitzki, and Michael Redd.
But who's going to come to Detroit? Let's face it, Lebron James is not going to Detroit. If he is going to leave Cleveland in 2010, he will be heading to a bigger stage than Cleveland, Detroit is not any better.
The only way the Pistons can lure big name players, if they were to appear to be on the brink of a championship.
Billups is a Denver native. He played at the University of Colorado and he is more of natural point guard and might mesh better with Anthony. The only downside is he is 32 and has three years left on his contract.
McDyess is expected to be bought out by the Nuggets. "McDyess has no interest in playing for any team other than the Pistons, meaning he could choose to retire or negotiate a contract buyout with Denver." ESPN.com's Chad Ford reports.
"Two teams had one common problem, or challenge," Nuggets executive Mark Warkentien said, according to AP. "I think the Pistons looked at [Rodney Stuckey] and saw him as the point guard of tomorrow, and you have an All-Star in Chauncey who was in his way.