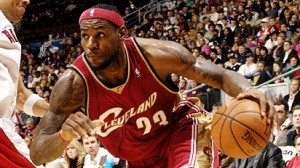 After getting swept by the Spurs in the NBA finals last season, the Cavaliers, from coach Mike Brown all the way up to management realized that Lebron need help on the offensive end.
The idea behind the new offense installed by Mike Brown during training camp was to get the ball out of James' hands in an effort to make everyone more effective and efficient and increase movement by having plays that kept the defense from being able to tilt toward James.
That idea failed for many reasons. The Cavaliers didn't have a complete roster for most of the season because of injuries, contract holdouts, and finally the big trade.
"Much of the blame can be put at Brown's feet." Brian Windhorst said in today's article. "He is responsible for getting the team to run the system. A defensive coach at heart, and a good one at that, he has refused to allow anyone to run the offense but himself since he was a rookie head coach, even when it was clear it was his weakness."
[ad#468x60_post]
Having a super star in Lebron James can also be a problem. Just look at Kobe and how people kept saying he's a selfish player who never got his teammates involved. But he decided to change his attitude this season and trust his teammates and now the Lakers are on top of the Western conference.
But that is not the case with Lebron. He has always trusted his teammates and his style was to pass first then shoot. Media and fans criticized him so many times for passing the ball to a wide open teammates who couldn't make a wide open shot. A perfect example was game two of the Eastern conference last season when he passed the ball to Donyell Marshall instead of taking the shot himself.
But you can also blame the Cavaliers offense failure on Lebron, "Ultimately, he is the one who stops the ball, the one who dribbles on the outside, where he is so much easier to guard, the one who sets the tone for his teammates." Windhorst said.
In few days, James will get his scoring title and will be the first Cavaliers in history to win the NBA scoring title but the Cavs will have significantly fewer wins than a year ago and that will put a damper on the party.
Offense Meltdown, Who is to Blame?
Coach Mike Brown (77%)
Season-long injuries, holdouts, etc. (10%)
Lebron James (6%)
The trade (6%)
Loading ...