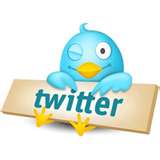 The NBA will introduce its guidelines for players, coaches and team officials on using social media sites such as Twitter and Facebook later this week.
The guidelines are expected to be minimal and less stringent than the guidelines announced earlier by the NFL.
The primary restriction of the policy is expected to prevent teams from tweeting during games including halftime.
However, individual NBA teams will have the right to impose their own standards that might be more strict as seen with the NBA dress code with some teams.
Furthermore, the NBA's new policy will treat social-networking commentary in the same manner as comments made in the traditional media, which means that anyone in the league can be fined or otherwise sanctioned for posts via Twitter, Facebook, etc., that are deemed over the line.
NBA players will be encouraged not to talk about team business on Twitter to avoid fines and other problems.
Formal confirmation of the new policy is expected from the league office this week after teams are officially notified.