In Sony's keynote where they announced NBA 09 The Inside, Lebron James was featured as the guy in the main menu. Here is a preview of the menu as reported in the Sporting Blog: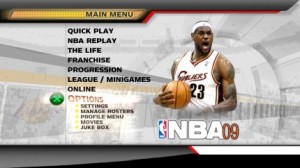 The game will be available on PS3 and will be delivered in 1080p HD
From the press release:
For the first time on PS3, NBA 09 The Inside includes "The Life", providing fans with a completely unique and inside experience of life in the league. This year The life starts fresh, allowing players to control the paths of three different characters while guiding them through all-new challenges and storylines in the quest to go from development league to the NBA. In addition to The Life, NBA 09 The Inside delivers a full featured Franchise Mode, allowing players to experience every facet of running their own NBA team.

NBA 09 The Inside once again showcases its progression system, where players earn skill and experience rewards used to thoroughly customize player appearance and play styles. This year, players will be able to customize up to five different players to take through the progression update. Also for this year, in game lighting has been revamped along with updated character animations and skin textures to provide a higher level of detail and realism. Adding to the atmosphere, NBA 09 The Inside utilizes a true T.V. broadcast presentation with highlights, a broadcast-style camera, and a comprehensive and in-depth audio commentary with top broadcast talent. With new modes, revamped character models and environments, and a robust online system with player profiles and quick play options, NBA 09 The Inside is set to push the envelope for NBA action and bring an unparalleled basketball experience to the PS3.