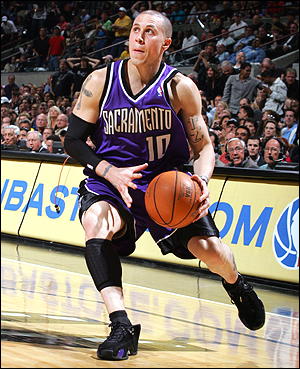 The Cavaliers spent the early part of today trying to acquire Bibby in a multi-team deal that would have left Sacramento with power forward Drew Gooden, point guard Marcus Banks (via Phoenix) and the expiring contract of center Scot Pollard, whose $2.2 million comes off the books this summer according to SI.
Earlier this morning, a report by the East Valley Tribute confirms that the Cavaliers have showed interest in Marcus Banks whose making $20 million over the next four years. Phoenix might be willing to move him as a way to shed payroll without getting anything back.
Geoff Petrie, Sacramento president is willing to trade Bibby only if he nets the expiring money that will enable the Kings to be free-agent players this summer, in addition, of course, to one or more draft picks and one or more young players.
Danny Ferry must now find a way to lure in one or more expiring contracts instead of or in addition to Pollard's. A few of the possible suspects include:
• Jamaal Magloire ($8.4M), though the Blazers desire a high draft pick.
• P.J. Brown ($8.6M), though the Bulls are unlikely to aid a divisional rival.
• Austin Croshere ($7.3M), though the tax-paying Mavericks would need something delicious in return for the expense.
• Morris Peterson ($4.6M), though the Raptors need someone like him to help them win their first divisional title.