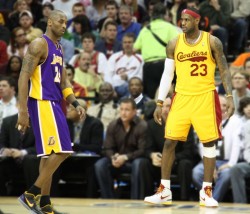 The 22-8 Cleveland Cavaliers have won seven of their last eight games and have gone 2-1 so far on their four game road trip, which concludes with a Christmas Day showdown versus the defending NBA Champion L.A. Lakers. The Lakers own a league-best 23-4 record, are riding a five game winning streak and have won 16 of their last 17 games. Here are some key matchups that will determine which team wins this much anticipated and much hyped game:
1) Kobe Bryant versus LeBron James
What, did you think that I was going to feature Sasha Vujacic versus Danny Green? Naturally, much attention will be focused on the battle between 2008 regular season MVP/2009 Finals MVP Bryant and 2009 regular season MVP James. They will likely guard each other at some point during the game and they will each have a lot to do with their respective teams' success at both ends of the court. The Lakers brought in Ron Artest as Trevor Ariza's replacement specifically to guard bigger small forwards like James, Paul Pierce and Carmelo Anthony, so I expect Artest to guard James at the start of the game and likely for most of the contest (a bit of a change from the past when Bryant would guard James more than James would guard Bryant). It will be very interesting to see what the Lakers do defensively late in the game if the score is close. Will Bryant insist on guarding James in that situation? Now that the Cavs have Anthony Parker and Jamario Moon in addition to Delonte West I think that James may guard Bryant even less often one on one than he did in previous seasons, though foul trouble (and West's availability) will influence Coach Mike Brown's thought process in that regard; also, James is much better equipped physically to check Artest than the other Cavs' wing players are, so James will likely guard Artest when Artest is in the game (Parker, Moon or West could easily guard Ariza, a player who is both less physically imposing and less offensively versatile than Artest).
This season, Bryant–who for many years has possessed the best all-around skill set in the league–added yet another weapon to his arsenal, training with Hakeem Olajuwon to learn the finer points of the post game. Bryant was already an excellent scorer in the post, but working with Olajuwon enabled Bryant to add more moves to his repertoire; early in the season before Bryant broke the index finger on his shooting hand and before the injured Pau Gasol returned to action, Bryant ranked second in the league in points in the paint, an amazing statistic for a shooting guard. In many ways, Bryant is playing better than ever, posting a career-high .488 field goal percentage, tying his career-high with a 2.2 spg average (third in the NBA) and producing the fourth highest scoring average (29.3 ppg) of his illustrious career.
James is having another excellent season, featuring career-high shooting numbers from the field, the free throw line and beyond the three point arc in addition to his usual well rounded stat line of roughly 28 ppg-7 rpg-7 apg. However, despite his size and athletic gifts he has still not developed a post game, nor is he a reliable midrange jump shooter. According to the NBA.com "Hot Spots" tracker, James is "cold" in four of eight midrange areas, "lukewarm" in three of them and "hot" in just one (left baseline); in contrast, Bryant is "hot" in four midrange areas, "lukewarm" in three and "cold" in just one (ironically, left baseline). Overall, Bryant has six "hot" areas, six "lukewarm" ones and two "cold" areas, while James has two "hot" areas, eight "lukewarm" areas and four "cold" areas. James shoots nearly .700 in the paint but less than .340 outside of the paint, while Bryant shoots .604 in the paint and .423 outside of the paint. James' inconsistent shooting outside of point blank range does not matter so much against inferior teams, because James can simply punish them by going to the hoop at will–but elite defensive teams that limit his drives and force him to shoot midrange jumpers can hold James to a low field goal percentage and induce him to commit more turnovers by sagging off of him and picking off his passes. Although James is a willing passer he still has a bad habit of wasting time dribbling laterally and then settling for long jumpers as opposed to attacking the basket to score, draw a foul or dish to an open teammate.
2) Andrew Bynum/Pau Gasol versus Shaquille O'Neal/Zydrunas Ilgauskas
Pau Gasol missed the first 11 games of the season due to injury but largely thanks to Kobe Bryant–who had four games with at least 40 points during that stretch, with the Lakers winning each time–the Lakers went 8-3. The Lakers are 15-1 with Gasol, losing only on the road versus Utah in the game after Bryant broke the index finger on his shooting hand. Ever since coming to L.A., Gasol has thrived as the team's second offensive option; he never shot better than .538 from the field during his six-plus seasons in Memphis but he shot .589 in 27 games as a Laker in 2007-08, .567 in 81 games last season and .543 so far this season. Players do not generally become better rebounders as they get older–rebounding is usually a task for the young and bouncy-legged–but Gasol is averaging a career-high 12.6 rpg this season, nearly three rpg better than his previous best. A significant portion of that increase has taken place on the offensive boards, where Gasol is averaging a career-high 4.0 rpg; defenses are tilted so heavily in Bryant's direction that Gasol and Andrew Bynum have a free run to the offensive boards, much like Allen Iverson's big men did during Iverson's prime (except that Bryant has a better shot selection and higher shooting percentage than Iverson).
Bynum emerged as the Lakers' second offensive option during Gasol's absence but since Gasol returned Bynum has not only regressed offensively but his rebounding has also dropped off tremendously; Bynum is a young player whose effort defensively and on the boards is still far too linked to how many touches he gets offensively and you can be sure that Lakers' Coach Phil Jackson is once again emphasizing to Bynum that when the Lakers are at full strength his primary role is defender/rebounder, not scorer.
The Cavaliers acquired Shaquille O'Neal specifically to match up better versus physical post players like Dwight Howard, Andrew Bynum and Kendrick Perkins, the starting centers for championship contenders Orlando, L.A. and Boston respectively. When O'Neal is in the game the Cavaliers should not have to double team any of those guys and thus should be able to guard more effectively on the perimeter instead of always having to rotate defenders. In the first quarter, the Cavaliers generally make a concerted effort to feed the ball to the "Big Bill Cartwright" in the post, so the challenge for Bynum will be to avoid picking up two quick fouls–but I suspect that Bynum will fail that test, thus providing Lamar Odom with extra playing time and forcing the Lakers to use a smaller lineup with Gasol at center and Odom at power forward.
Two-time All-Star Zydrunas Ilgauskas started nearly every NBA game that he played in prior to this season but the acquisition of O'Neal relegated Ilgauskas to a reserve role. A very reliable outside shooter who loves to run the pick and pop play with James, Ilgauskas struggled with his shot early in the season–probably adjusting to his new, reduced role–but he has shot .543 from the field in December, highlighted by a season-high 25 points on 10-14 field goal shooting in Cleveland's 117-104 overtime victory versus Sacramento on Wednesday. When Ilgauskas is in the game his shooting ability will force Bynum or Gasol to leave the paint to guard him, opening up lanes for other Cavs to drive or cut to the hoop. When Ilgauskas goes in the paint his length makes him an effective rebounder–particularly on the offensive glass–and enables him to alter/contest shots.
3) Lamar Odom versus Anderson Varejao/J.J. Hickson
Some Cleveland observers who do not watch many Lakers games have developed an exaggerated fear of Odom's capabilities, largely based on Odom's 28 point, 17 rebound outburst when the Lakers beat the Cavs in Cleveland last February. Contrary to what some people think, Odom's production did not necessarily reflect some fatal weakness in the Cavs' frontcourt; Odom took a season-high 19 field goal attempts (in part because Bryant was under the weather) and thus tallied a season-high point total but he is unlikely to match those numbers against Cleveland–or anyone else: Odom had just six other 20 point games all season long and in the Lakers' other game against the Cavs he managed just eight points and 10 rebounds. Odom is averaging a career-low 8.6 ppg on .423 field goal shooting (his worst field goal percentage since 2001-02) and has yet to exceed 16 points or 14 rebounds in a game this season. Anderson Varejao's scoring and rebounding numbers are nearly identical to Odom's but Varejao is shooting .509 from the field. J.J. Hickson's role has expanded this season but if he is not in tune defensively and on the boards then Coach Brown will likely use a quick hook and insert Varejao.
4) Bench play
As I explained last summer, "the 2008 Lakers were a deep team but not quite as talented as some people suggested. Although the 2008 Lakers had eight players who averaged at least 16.8 mpg in the playoffs, the talent level at the top of their rotation could not be compared with the Celtics, whose roster includes three future Hall of Famers. This year's Lakers are probably a little more talented than last year's Lakers but because the production of several bench players declined markedly the 2009 Lakers are not as deep as the 2008 Lakers; only six Lakers averaged at least 16.8 mpg in the 2009 playoffs." The 2010 Lakers strengthened their starting lineup by swapping Ariza for Artest but their bench is at least as thin as it was last season. As NBA TV's Chris Webber correctly observed after the Lakers needed every one of Bryant's 40 points to beat the Oklahoma City Thunder on Tuesday, "They have Shannon Brown coming off the bench and that's about it." Technically, Odom is a bench player as well but the way that the Lakers use him he is a de facto starter; Odom and Bynum split the minutes as the big who plays opposite of Gasol and Odom is often the closer at that spot, which is more important than being designated as a starter. Webber added, "You look at other teams with the guys they have coming off the bench they have a whole other team ready to bring energy and a different type of play."
Webber's description of what the Lakers lack fits Cleveland's roster perfectly: the Cavaliers currently are bringing three players off of the bench who started for the team that led the NBA with a 66-16 record last season (Zydrunas Ilgauskas, Anderson Varejao and Delonte West). The Cavs' top five reserves–Ilgausaks, Varejao, West, Daniel Gibson and Jamario Moon–have all started playoff games at some point during their careers; other than Odom–who, as mentioned above, is not playing particularly well or efficiently this season–the Lakers' top reserves are Brown, Jordan Farmar and Josh Powell. While the Cavs have 10 players who average at least 18.6 mpg and have appeared in at least 20 games, the Lakers' ninth man is the seldom used Josh Powell (10.8 mpg in 21 games, .387 field goal percentage) and their 10th man is the oft-injured Luke Walton (10.6 mpg in just nine games, .424 field goal percentage). Sasha Vujacic–who was a decent reserve during the 2008 regular season but who did not perform well in that year's playoffs and has not been the same since then–is averaging just 6.6 mpg (13th on the team) and shooting just .375 from the field; the self-nicknamed "Machine" seems to be broken beyond repair.
5) Three point shooting
The Lakers and the Cavs are both just a little bit above the league average for three pointers attempted per game but the Cavs rank second in the NBA in three point field goal percentage while the Lakers only rank 20th. Both teams do an excellent job of defending against the three point shot: the Lakers lead the league in that category, while the Cavaliers rank fifth. Four Cavaliers have attempted at least 70 three point shots–Mo Williams, LeBron James, Anthony Parker and Daniel Gibson–and three of those players are shooting well over .400 from beyond the arc, with Parker and Gibson ranking first and second in the league in three point field goal percentage. Delonte West has shot just 1-12 from three point range in spot duty this season as he battles personal and legal problems but he was a top notch three point shooter last season (.399) and is certainly capable of hitting big shots from long distance.
The Lakers also have four players who have attempted at least 70 three point shots but only Ron Artest has shot better than .350 from long distance (42-115, .365). Jordan Farmar (24-74, .324) and Lamar Odom (21-73, .288) are hardly pure shooters, so their numbers are not likely to increase by much. Bryant has spent most of the season camped out in the post or feasting on midrange jumpers, so he is on pace to attempt his fewest three pointers since the 2003-04 season. Bryant is shooting just .278 (25-90) from three point range; in a five game stretch after Gasol came back and before Bryant broke his finger he shot 11-23 (.478) from beyond the arc but since suffering the finger injury Bryant has yet to make more than one three pointer in a game and his percentage from that distance will likely not increase much until that finger heals a bit. Derek Fisher has shot 24-69 from three point range, a .348 percentage that is his worst since the 2006-07 season and one of the worst of his entire 14 year career.
The overall key to this game for the Cavaliers is to find a way to contain Bryant without committing so much of their defense to him that Gasol, Bynum and Odom have free runs to the rim for dunks, layups and putbacks. Offensively, the Cavs will try to get Bynum in early foul trouble by posting up O'Neal. If the Lakers have to double team O'Neal and/or James then the Cavs must punish the Lakers by draining three pointers.
The Lakers want to see consistent effort and production not only from Bryant and Gasol but also from Bynum and Artest, plus whichever bench players see action alongside Odom. The Lakers are obvious favorites considering their record and the fact that they are playing at home while the Cavs are playing their fourth road game in six nights but if O'Neal makes the most of his early touches, Delonte West plays like he did last season and Mo Williams makes open jump shots then the Cavs are certainly capable of winning.