Tom Withers on the Casper StarTribunet.net reminds us of Lebron's greatness.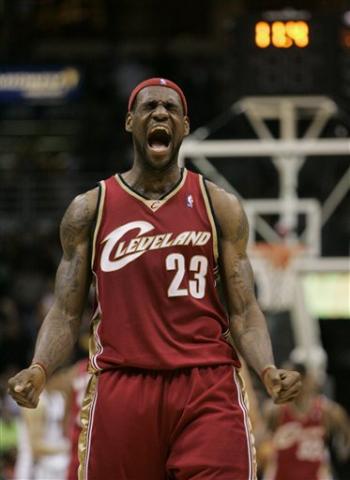 LeBron James has shifted into a higher gear _ warp speed. Entering the stretch run of his fourth season as a pro (is that possible?), James has taken his splendid, all-around game to another level, and brought the Cleveland Cavaliers along with him.
Criticized earlier this season for being lackadaisical, missing too many free throws, not coming through in the clutch and not owning an NBA championship ring like superstar pal Dwyane Wade, James is playing perhaps the best basketball of his life.
Since the All-Star break No. 23 has been unstoppable.
"He played well last year too," Cavaliers coach Mike Brown said before Sunday's win over Indiana. "But in terms of putting it all together, in this last stretch of games, he's been playing very, very well."
Lately, nobody has been better. Among his most memorable March moments:
_ A 41-point, eight-assist, seven-rebound effort in leading the Cavs to their first win at Detroit in three years.
_ Scoring 16 of his 32 points in the fourth quarter on Saturday and setting up Anderson Varejao's game-winning shot in the final seconds for a win in Milwaukee.
_ Recording 32 points, 12 rebounds and eight assists in a victory over Houston.
_ Making 15-of-17 free throws and scoring 36 points in 38 minutes to beat Toronto.
Before being "held" to 26 points _ he sat out a chunk of the fourth quarter _ against the Pacers, James had scored at least 32 points in six straight games and not fewer than 29 in 10 in a row.
He's averaging a league-best 33.3 points on 53 percent shooting since Feb. 15 for the surging Cavaliers, who have won five straight to push their record a season-best 13 games over .500.
James' scoring binge followed a 10-game stretch in which he averaged 22.4 points on 44 percent shooting, an extended slump that prompted whispers that he was tired, injured, distracted or unhappy in Cleveland.
So, what changed?
"I'm just mentally trying to prepare myself and my team for the playoffs," James said, taking a break from watching Sunday's Kansas-Texas game on TV. "I'm trying to execute and find creases and cracks in the defense and trying to read them. Everything has been falling for me, my 3s, my mid-range jump shot, my drives and my teammates are putting me in a comfort level to help me succeed.
"I've been able to go out there and do some things that I couldn't do early on."
For much of the first three months of the season, James was not James, and the Cavaliers did not play like the team that pushed Detroit to a Game 7 in the conference semifinals last year or one with NBA title aspirations.
Earlier this season, James was settling for jump shots instead of attacking the rim, something he does as well as anyone. His usual first-step quickness wasn't there and he didn't have the customary spring in his legs. He appeared worn out after spending part of his summer playing for the U.S. team in the world championships in Japan.
Of course, James denied being fatigued. But his statistics said otherwise.
The 22-year-old also missed three games in late January with a sprained right big toe, an injury he feared would linger all season. He refused to use it as an excuse, but it was obvious that he wasn't right.
His suspect free-throw shooting hasn't helped. It has improved some _ he's shooting 79 percent (34-of-43) in his last seven games _ but it remains his biggest flaw. After he went 3-of-8 from the line in a nationally televised loss at Miami on Feb. 1, the LeBron bashers came out in full force.
The torment continued when he missed a pair of free throws, then two 3-pointers, in the final 13.7 seconds of a loss at Dallas. Never mind that James, who would be a senior at Ohio State or some other powerhouse if he hadn't gone pro, had 39 points, five assists and three rebounds against the Mavericks.
Nothing, though, is slowing him now. James is focused, playing with energy and enthusiasm every night. The Cavaliers are following their leader.
Brown acknowledged that difference in James.
"One of the things that's tough on any player, whether you're a great player or not is to make sure you are focused every day no matter who you are playing," Brown said. "That is something that he has been doing really well as of late. At shootarounds and games, it doesn't matter who we are playing, you have to be locked in."