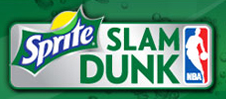 Lebron James just announced that he will compete in the 2010 slam dunk contest in Dallas, Texas.
"Right now, I am preliminary putting my name in the 2010 dunk contest Saturday night" Lebron said during the All-Star Sprite Slam Dunk contest. "Lebron James is saying, in 2010 in Dallas stadium I am preliminary putting my name in the dunk contest"
During the T-Mobile Rookie Challenge game Friday night, Kenny Smith talked Lebron into competing in the slam dunk contest and apparently it worked.
The 2010 NBA All Stars will be held in Dallas. The 59th NBA All-Star Game will be played on Sunday, Feb. 14, 2010, at the new Dallas Cowboys Stadium in Arlington, which will have a seating capacity in excess of 80,000. The T-Mobile Rookie Challenge and NBA All-Star Saturday Night festivities will take place at American Airlines Center, home of the Mavericks.