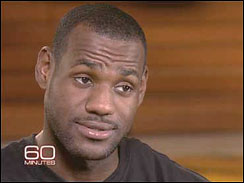 The populate magazine show "60 Minutes" sat down with Lebron for the one-on-one with show contributor Steve Kroft.
The show, which will air this Sunday at 7 p.m. ET, takes James to his Akron high school where he first broke onto the national stage and his face made the cover of Sports Illustrated on Feb. 18, 2002.
Besides a visit to James' old high school, St. Vincent-St. Mary, the profile also includes a drive through Akron and an interview with his mother, Gloria James.
Before leaving his high school court, Lebron James took one dribble and sank a more-
than-half-court-length shot.
It happened so fast 60 Minutes nearly missed it. While he and Kroft walk the court at his old high school in Akron, James bounces a basketball near the top of the key. "Are you going to do anything with this?" asks Kroft. Before Kroft barely finishes the sentence, James nonchalantly flips the ball underhanded at the backcourt hoop some 60 feet away, where it hits nothing but net. "You got it?" asks a smiling James.
Luckily, the 60 Minutes cameraman was on it and captured the entire flight of the incredible shot. "How many times can you do that in a row? asks a dazzled Kroft. "I'm one take, baby, that's all. I'm just one take," smirks James.