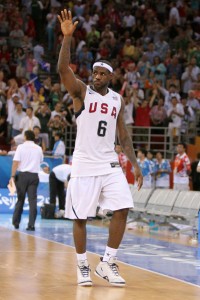 Lebron James filed paper work yesterday to officially change his jersey number to No. 6 from his current No.23, the Cleveland Plain Dealer reported on Monday.
"I've done it," James told the Plain Dealer. "I already sent it in. I'm going to be No. 6."
Six is James' jersey number on the Olympic team and Cavaliers fans can take this request as a sign he might be staying in Cleveland. He doesn't need to file for such a request if he switches teams, he can choose any number he wishes. The League only require this request if a player is staying with the same team.
Lebron wanted to give up No.23 to his hero and out of respect, Michael Jordan. He first brought up the idea in November. At that time he said he was "50/50" on switching to No. 6, his Olympic number and the day of the month his first son was born.
The change could also be a business move by Lebron. In 2006, Kobe Bryant requested his number to be changed from No. 8 to No. 24. Bryant's jerseys quickly shot to No. 1 in sales across the world. James is currently in the top three in U.S, China and Europe.
[polldaddy poll=2782512]