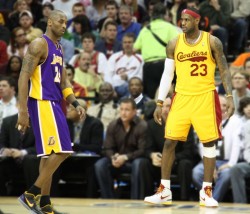 With less than a month left, the race to the MVP seems to be favoring Lebron James according to a recent poll by the Cleveland Plain Dealer.
A survey conducted this week among a diverse group of MVP voters hints that with three weeks to go, James is leading by a significant margin.
The sample included national media members based on both coasts as well as beat writers and broadcasters split evenly between Eastern and Western Conference cities. Of the 20 who gave their opinion, James got more than 80 percent of the vote.
"Kobe has been the best player, LeBron has been the best teammate, Dwyane Wade has been the best highlight," TNT analyst Kenny Smith said. "Overall, it's either the best player or the best teammate. [Bryant and James] have elevated their games. I would have to go with LeBron because I don't think he has as much talent as the Lakers have."
"I love Dwyane Wade, Kobe Bryant has been the best player for a while and we did not award him with the MVP until his team had the best record or one of the best," TNT analyst Charles Barkley said. "Dwyane is having a fabulous year, but you can't change the criteria. It'll be LeBron or Kobe because their teams will have better records. We reward winning."