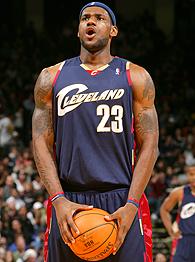 In the last 10 games, Lebron made just 59 of 98 free throws, Shaq-like statistics that have dropped his average from the line to 68 percent, that is 7 points below his career average.
James is determined to fix this problem. He is working with Cavaliers assistant coach Chris Jent on his foul shooting after every practice. Jent has made some fundamental adjustments to James' shot.
"We're just trying to change how much time he is at the line, make it more of a rhythm shot," Jent said. "We haven't done much more than that, it's him trying to find a comfortable routine.
"Free-throw shooting is so much mental that the routine part of it is important so your body feels comfortable. Right now, we're trying to find that comfort level and sometimes when that happens, you regress before you progress. For him, it's kind of a hard time right now."
Of the 16 players who had attempted 300 free throws entering Monday's games, he ranked 13th in free-throw percentage, ahead of only San Antonio's Tim Duncan (64 percent), Orlando's Dwight Howard (62) and New York's Eddy Curry (61) — all big men.
"I'm trying to find a groove," he said. "I just have to stick with the routine I've been doing lately and get better."
The problem, James admits, has crept into his mind.
"It can be mental sometimes, and right now it is," he said. "At practice, I don't miss. I get in the game, and I miss."