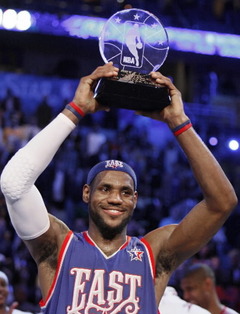 For the fifth consecutive season, James was voted to the All-Star Game and got a career-best 2,940,823 to top all forwards in the Eastern Conference. The Magic's Dwight Howard led all players with a record 3,150,181 votes. James was second overall and the Lakers' Kobe Bryant was third with just over 2.8 million. The game is set for Feb. 15 at the US Airways Center.
"I always look forward to is because it is for the fans," James said  "They create us and they're the reason why we have the exposure. Without them there wouldn't be an All-Star Game."
Lebron will be joined by Miami's Dwyane Wade (2,741,413) and Detroit's Allen Iverson (1,804,649) will be in the East's backcourt, and Boston's Kevin Garnett (2,066,833), who beat New Jersey's Yi Jianlian for the starting nod by 253,004 votes.
Kobe Bryant of the Los Angeles Lakers (2,805,397) was the West's top vote-getter, and will be joined at guard by New Orleans' Chris Paul (2,134,798). At center, Yao (2,532,958) will start for the sixth time, along with forwards Tim Duncan of San Antonio (2,578,168) and Amare Stoudemire of Phoenix (1,460,429).
The East's head coaches will pick the All-Star reserves next week.  Mo Williams is in contention for one of those spots, but it will be difficult as point guards Jameer Nelson of the Magic and Devin Harris of the Nets are in it with Williams. Zydrunas Ilgauskas was an early favorite but his chances have diminished with his recent ankle injury.
The Cavaliers currently hold the top spot in the East and if they continue to hold that spot by Feb 1st, Mike Brown and his staff will coach the East.