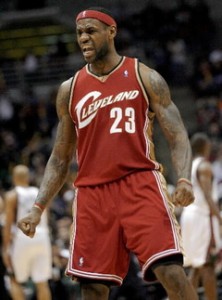 Lebron James put on one of his tremendous offensive displays of his career and it was probably one of the most entertaining games  behind Game 5 of the Conference final at Detroit two years ago.
He nearly broke his own franchise scoring record with 55 points, one shy of his 2005. He did break the Bradley Center opponent record.
The show started in final second of the first half when Lebron James shoot a 3-pointer to end the half. Then the third quarter started and he scored 16 point in 2:50 minutes.
He made eight consecutive shots. six of them 3-pointers and all of those from several feet behind the line. These are the kind of shots that Cavaliers fans cringe and say "NO" but then it goes in. They are also know as the "heat-check" jumpers. Overall, he hit on a career-high eight 3-pointers, which tied a franchise record held by Danny Ferry and Wesley Person.
"I just got in a zone; I just kept on going at it, man," James said. "Every shot I made, we needed it. That stretch is probably top two for me, this performance and in the Palace in Game 5."
"You have to give LeBron his due during that time period, too," Bulls coach Scott Skiles said. "He hit some shots 3 or 4 feet behind the 3-point line."
With Cleveland leading 92-89 with 6:54 remaining, Villanueva took a hard foul on the Anderson Varejao by grabbing his face and knocking him down to the floor. Ilgauskas went after Villanueva and a shoving match started, with officials assessing a flagrant foul-2 on Villanueva and ejecting him.
Ilgauskas was called for a technical foul and initially was ejected as well, but officials allowed him to stay in after a review.
"I thought the way that he fouled Andy was unnecessary, and I was trying to protect my teammate," Ilgauskas said. "After that, he grabbed me by the throat, the whole melee went down."
"I don't know if I've ever seen a quarter like that from anybody," Brown said. "And I've been in the NBA since 1992."
Mo Williams, who had 23 points including 18 in the second half, when he and James put on an amazing offensive play. Williams put out a couple hard picks and then was floored by a Dan Gadzuric elbow.