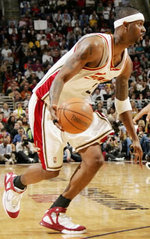 Larry Hughes will practice today and if everything goes as planned and there are no setbacks, he could start sometime next week.
He's been suffering from a deep bone bruise in his left knee. The injury was originally sustained November 4 against the Phoenix Suns.
He was shut down on Nov. 16, when it was announced he would miss at least a month. Hughes missed missed 13 consecutive games since the Los Angeles Clippers game on Nov. 11.
"I'm taking what I can stand right now and see how I feel the next day," he said. "I worked out pretty hard (on Tuesday).
"I've been pain free walking. (It's not pain free) once I get going. It's a matter of getting my legs under me a little more, (getting) stronger running and jumping and (dealing with the) fatigue factor. I'm ready to get out there and test it more."
He said it's been tough watching the Cavs' five-game losing streak. He thinks he can light a fire under the Cavs when he returns.
"I always want to get back," he said. "I don't want to miss any time. I'm close to being 100 percent from the injury. There's no need to keep waiting. I want to get out there and help the team out. That can give the team a shot of energy."