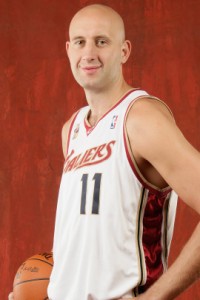 Zydrunas Ilgauskas has been known for his soft temper and he seldom makes the news even though he has been a huge part of this team's success. However, his expiring contract will put him in many trade rumors this season.
The ContraCostTimes.com reported yesterday that the Warriors have been in talks with teams including the Cavaliers to accommodate the desire of their star Stephen Jackson to leave.
"As Jackson has already said, he would love to go to Cleveland. And a starting perimeter of Mo Williams, Stephen Jackson and LeBron James sounds pretty formidable, especially with the likes of Parker, West and Bobbie Gibson coming off the bench."
Brian Windhorst, the Cavaliers beat reporter said via Twitter that the Cavaliers won't trade big for small unless for a certifiable star and Stephen Jackson doesn't qualify.
Marc Stein also writes:
A theoretical Cavs-Warriors deal headlined by Jackson and Ilgauskas — who's in the final year of his contract at $11.5 million — would only provide Golden State with payroll relief. That's a big deal, but the Warriors would ideally like to bring back at least one player for the future (with a reasonable contract) if they're going to part with someone as important as Jackson, whereas I get the feeling that Cleveland is likely only willing to part with the likes of Daniel Gibson or Delonte West in addition to Ilgauskas.
Also, Zydrunas Ilgauskas has been hinting that this could be his last season. The grind of the long seaons, road trips, and playing on consecutive nights all wear him down. Ilgauskas is 34, and is entering his 12th season – all with the Cleveland Cavaliers. This is also the final year of his contract.
In his first five seasons, Ilgauskafirst missed 268 of 378 possible games, suffering through five surgeries in five years. But since February of 2001, he has been healthy and a big part of the team.
"I'm not a spring chicken any more. So we'll see how I feel after the season" he told FanHouse.
Cavaliers Mike Brown also wouldn't be surprised if Ilgauskas hangs up his high tops after this season.
"He's had an excellent career," Brown said. "He's obviously missing one thing in his career: a championship. I'm sure he would like be part of that. But he's got a beautiful wife at home in Jennifer, and they adopted a couple of great kids.
"He still has a full life ahead of him off the floor. He is a guy that could, at any time, say, 'This is my last year' or 'I might play one or two or three more years.' He has a life in general in greatest perspective. I think, when the time comes, he'll make a decision."