Physical play and hard fouls didn't stop Lebron in game one against the Wizards. The Wizards wanted to hit James every time he drove to the basket but that only made him stronger and more aggressive.
LeBron James was knocked to the floor twice in the first period after Andray Blatche hit him in the mouth and wasn't called a foul. James responded with an elbow to Blatche's head that didn't draw a whistle either.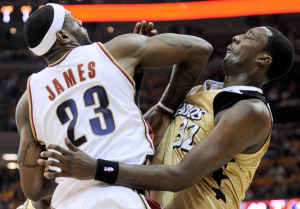 Then he was knocked to the floor in the second period after Brendan Haywood fouled him while attempting to set a screen.
He got into a heated exchange with Brendan Haywood, and both drew technical fouls because Haywood, James said, was "standing above me in a very disrespectful manner."
All that didn't matter to James. He put up 32 points, including two game-deciding hoops in the stretch run, to carry the Cavs to a 93-86 victory in Game 1.
"I was built for this," James said "I'm not 6.9, 260 pounds to shoot jumpers. I go to the hole and I create contact."
"He took over," Wizards guard Gilbert Arenas said. "There's really no answer for him."
"It was definitely an emotional, electrifying play for our team and our fans," James said with a laugh. "I told Boobie to just throw it anywhere and I'd go get it. He really took that literally. He really threw that ball somewhere I had to go get it."
James finished the game 12 of 19 from the floor. He attempted 14 free throws, three fewer than the entire Wizards team.
"My play speaks. We're not the type of team that talks, but we're not going to back down, either," James said. "For me as an individual, I can't go out there and make it an individual challenge because that takes away from our team efforts and what we have at task. It's never going to be between me and DeShawn, it's going to be me and my team against Washington."