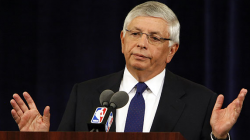 NBA Commissioner David Stern changed his mind and fined Lebron James $25,000 for skipping the postgame news conference after Cleveland lost to Orlando in the Eastern Conference finals.
During his annual NBA Finals press conference, David said he spoke to James after his surgery to remove a benign growth near his jaw, and that James admitted he was wrong
"He asked that I express to the media, the Magic and the fans his apology, and particularly the young fans, because he knows he has a responsibility to all of our fans, and that sportsmanship is appropriate whether you win or whether you lose," Stern said.
"He understands why it was necessary for me to fine him $25,000 for missing the media availability."
The league first said James wouldn't be penalized, but after so much hype by the media, Stern said he will reconsidered after thinking about it more.
"Certainly as it related to the media, we have a rule, you guys know that we've had some interesting issues over the years with some of our coaches and the like, and it was inappropriate for me to give someone a pass here," Stern said.