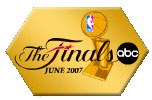 Hollinger playoffs odds for the 2008-09 season picks the Cavaliers as the favorite to win the East by 56%. The Hollinger Power Rankings are a computer measure of each team's performance in the season so far.
"The idea is to predict what a team's odds are of making the playoffs, winning the division, making the Finals, etc., by simulating all the remaining games in the NBA season. We have a computer at ESPN headquarters in Bristol, Conn., that automatically plays out the rest of the season every night — not once, but 5,000 times. And we can see from those 5,000 trials how many times a certain outcome resulted, then assign a probability from it. For example, if the Blazers make the playoffs in 2,500 of our trials, we say their odds of making the playoffs are 2,500 divided by 5,000, or 50 percent. "
So based on ESPN computer, the Cavaliers will win the East and go all the way to face the Lakers in the NBA finals. Unfortunatily for Cavaliers fans, the Cavaliers odds to winning a championship only 18% compare to the Lakers 45.3%.
You can read more about how it works here.