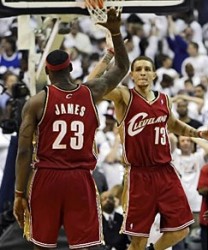 Delonte West has signed a multiyear deal with the Cleveland Cavaliers. Although terms were not released, sources said it was for three years. He had been seeking a deal starting around $5 million a season.
"This is the first time since I was offered a scholarship at St. Joes that I feel like I am valued as a person and a player," West said in a release issued by the team. "Dan Gilbert and the Cavaliers have shown me that they value me as a person and a player and that was the most important thing to me.
"In that sense, this was not about a specific dollar amount. You can't really put a dollar value on a person – their skills you can, but not their heart and what kind of person they are. My family is blessed and I feel a great relief to be able to concentrate on basketball now."
West will have to compete for time with Mo Williams and Daniel Gibson.