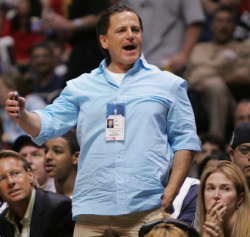 In a Bar Mitzvah event that took place last Saturday, it's being reported that Dan Gilbert got into a minor physical altercation with his former Rock Financial employee David Hall.
"There have been rumors, since Hall's abrupt departure from Rock Financial over a year ago, that there was friction between Gilbert and Hall. Mojo in the Morning, the morning radio show on 95.5 FM in Detroit, apparently has sources that were at the event Saturday night.
During a segment the show talks about what happened and tells their listeners that the friction between Gilbert and Hall came to a head during an altercation, with the two men getting into a physical confrontation. Security had to intervene to calm down the two.
Whatever happened between those two men that lead to the fallout, the bad feelings are probably intensified with the current state of the economy." mLive.com