Damon Jones is the funniest, handsomest, smartest, world-class 3-point shooter never drafted.
And he'll be the first to tell you.
Living a life of hyperbole comes naturally:
I think it's a family gene . . . It's in the DNA. [Damon's Mom, Renee Jones-Lee]
Galveston Ball High coach Jerry Williams, denying any knowledge of Damon's boy's room gambling ring, cites his "exceptional personality." (Source: Palm Beach Post, May 11, 2005)
Alvin Brooks, Jones' University of Houston coach, once said his star's persona was not an act:
That's him, every day and all day . . . an honest, sincere energy. (Source: Palm Beach Post, May 11, 2005)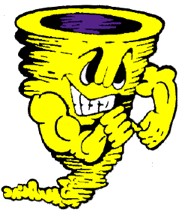 Damon played for the Galveston Ball High Golden Tornadoes. Looking at their logo, I wonder which came first – did Damon inspire Tuffy or was Damon born to represent him?
His ability to shoot from behind the arc was legend even at this tender age; classmates would shout their request in unison and the cry echoes throughout Damon's life: Threes, please!
Confident in his basketball skills, Damon left the University of Houston after his junior year as the school's all-time leader in three-point field goals (182) and headed for the NBA draft. The NBA did not share his classmates' enthusiasm and Damon's road to fame and fortune took a few twists and turns:
The International Basketball Association (IBA) where he was sixth man of the year for the 1997-1998 season with the Black Hills Posse.
Continental Basketball Association (CBA) where he played for the Idaho Stampede and was named a CBA All-Star, CBA Newcomer of the Year and CBA All-League First Team selection after ranking in the top five in both scoring average and assists in 1998-1999.
Orlando Magic (13 days, no games)
New Jersey Nets (3 weeks, 11 games), Boston Celtics (6 weeks, 13 games) – 1998-1999
Golden State Warriors (13 games, including his first NBA starting appearance) and Dallas Mavericks (42 games) 1999 – 2000
Vancouver Grizzlies (71 games, his first career double-double) – 2000-2001
Detroit Pistons (led in assists six times; also suffered right knee patella tendonitis) 2001-2002
Detroit Pistons and Sacramento Kings (49 games, also suffered sprained right ankle missing 22 games and left ankle sprain missing one game) 2002-2003
Milwaukee Bucks (82 games, 26 starts), finished the season ranked second in the league in assists-to-turnovers ratio (4.64:1), 14th in assists per game (5.8) and fourth in assists per 48 minutes (11.3) 2003-2004
Miami Heat (82 games, 66 starts), ranked third in the league in three-point field goals (225), fourth in assists-to-turnovers ratio (3.57:1), fifth in three-point field goals attempted (521) and fifth in three-point field goal percentage (.432) / his 225 three-pointers tied him with Mitch Richmond for the ninth highest single-season total in NBA history … 2004-2005
Cleveland Cavaliers 2005-present
10 NBA teams, each with its own tale of rejection, until his most recent stint with the Cleveland Cavaliers, a record 3 seasons as of this writing.
Damon never thought of quitting; he was "part of the circle." In 1993, the Rockets held their training camp in Galveston, Texas; Damon was playing high school ball in that very same town in that very same year. His high school coach asked if he wanted to watch practice and help the equipment manager, bring towels, rebound, wipe up the floors, etc.
A few months later, the Rockets won their first NBA title. In between, 17-year-old Damon found himself in the locker room, hanging with Kenny Smith, rookie Sam Cassell and eventually Mario Elie, Robert Horry and Vernon Maxwell. The circle. What Damon calls the dream before the dream.
It pushed me over the edge because I was in the circle from that point on. It was what I dreamed about. I was going to Rockets games. I was in their locker room after games . . . I saw what the circle had to offer and I really wanted to be a part of it.
In the IBA and the CBA when I wasn't getting the call up, I would think back to those times and it just kept me focused and kept my dream alive. (Source: The Vancouver Province / British Columbia, January 5, 2001)
Kenny Smith recalls the young Damon:
Just like now, you would hear him before you see him. He was always saying one day he was going to be in the NBA. He wanted to go to dinner with us after practice. He wanted to know what we were doing after practice. I was like, "Damon, you're 17. Go home." (Source: Palm Beach Post, May 11, 2005)
For Damon, this was already step two of the dream:
. . . that wasn't the first time I had met NBA players. When I was in the 11th Grade, I used to play at the rec centre in Houston which was a mecca for summer-league ball. Moses Malone, Rodney McCray, Robert Reid, Kenny Smith. They were all there. So I've been around NBA players my whole life. I've had confidence in myself since I was little so it was just going out and doing what I do. (Source: The Vancouver Province / British Columbia, January 5, 2001)
For all his swagger and exaggeration, Damon is clear on his early role with the Rockets. In a January 2007 interview with NBA TV Anchor Andre Aldridge, where he had every opportunity to enrich the tale, Damon is careful with his description:
Andre: Kenny Smith told me to look at the video from the Rockets two championship seasons in '94 and '95 and to check out both clinching games at The Summit and he said, not me, when I do that to look for a big-headed ball boy and it's Damon Jones. Is that true?

Damon: False.

Andre: False? Were you a ball boy for the Rockets?

Damon: I was never a ball boy. I just had the opportunity to work a couple of their practices where I rebounded a couple times and you know, got a few cups of water, but I was never at the arena when the game was going on.
In a similar vein, when LeBron James once said Damon called himself the best shooter in the universe, Damon replied, "No, not the universe. The world's enough."
Playing for the Vancouver Grizzlies (now the Memphis Grizzlies), Damon wrote a series of columns for The Province as Basketball Jones. Reading these stories is a glimpse of the Damon his mom knows, funny yet surprisingly sensitive. Damon discusses his love of the 3 pointer, or, as he likes to say, "percolating and matriculating about the game's most dramatic shot."
I love to knock down threes. The three-point shot is like the deep route for a touchdown in football.

In baseball it's the home run when you need it.

It's coming up big, like a hat trick in hockey.

Nothing can get the crowd back into the game, and nothing can pick up the morale of the team more.

If you're in a lull, it can change things in a hurry.

When you hit big threes and teams have to call a time out, that's just exciting.

And I love to get the fans involved in the games.

(Source: The Vancouver Province /British Columbia, January 12, 2001)
On his daughter, Teylor:
Intro: Grizzlies guard Damon Jones will tell you one of the great pleasures in his life is talking with his young daughter Teylor on the phone from wherever he is. But, as holiday season shifts into high gear, Basketball Jones admits his biggest wish is to be with her on Christmas morning.

Damon: My daughter is three now and I've never been there with her on Christmas morning to help her open presents.

(Source: The Vancouver Province /British Columbia, December 8, 2000)
Damon professes his love for just about everyone in a holiday post:
I think this league is a fraternity and we all need to stick together. I know about 150 guys . . . coaches, assistants, trainers and players. If you're looking for a friend or someone to keep in communication with, then I tell them, "Damon Jones is that type of guy."

I start early, wishing everyone a Merry Christmas, just in case I don't see them in time. And, for the guys that I won't see, I'll call them and wish them continued success.

I guess it's from my parents. My dad is a chemical engineer and my mom is a saleswoman at Sak's Fifth Avenue. You know, I think it's just a combination of my dad's friendliness and my mom's outgoing spirit that make me the way that I am.

(Source: The Vancouver Province / British Columbia, December 15, 2000)
During Damon's tenure with the Miami Heat, People magazine voted Dwyane Wade one of the 50 most beautiful people in the world. Tom D'Angelo, writing for the Palm Beach Post, quotes the reaction of Damon's mom, Renee Jones-Lee, upon learning of Dwayne's newest honor:
When I saw that, I said, "Here's a headache that is bound to take place."
She wasn't kidding. Damon's response, upon learning the news:
I've put a couple of calls into People magazine to see what the criteria was. If they're talking about his looks, he's not top 2,050. Besides, I'm the best-looking man on this team.
Shaq calls him "Mr. Arrogant Man;" his mom says "his attitude is like a cool breeze on a sunny, hot day." (Source: Palm Beach Post, May 11, 2005)
According to Mr. D'Angelo's story:
Damon keeps a book filled with articles and quotes from those who doubted his talents. The first belongs to NBA super-scout Marty Blake who, according to Jones, said he was an average college player who would not play in the NBA.

"I write them down," he [Damon] said. "I have a journal of 15, 20 pages of quotes about my abilities, I can't do this and I can't do that."
The Contra Costa Times, in a December 1, 1999 story, calls the NBA "the harshest of work environments" and reports the Warriors waived Damon the day after he had one of the most prolific shooting nights in team history and one day before his contract would have become guaranteed for the remainder of the season.
One of my favorite Damon stories comes from Dan Steinberg's D.C. Sports Blog. In a post titled LeBron and D-Jones's New Handshake, Damon's team spirit shines through as Dan attempts to describe pre-game rituals:
The Cavaliers . . . have a pre-game greeting ritual more choreographed than a Karl Rove-directed ballet . . . The king of handshakes is none other than Damon Jones. So, Damon Jones, where did this ceremony come from, and what does it all mean?

"No handshake questions," he said. "I can't tell you anything about the handshakes, I'd have to kill you….I do a handshake with each individual guy, and that's sacred. The meaning of the handshakes will not be disclosed in your newspaper."

Jones would say nothing more than each handshake is based on specific personality traits, but as with all secretive organizations, some leaks inevitably sprang. Jones's handshake with Daniel Gibson involves two hand slaps and a "turn-the-faucet" motion; "turn it on," Gibson explained.

With Ira Newble, there's hand slaps and then a raised fist. With Anderson Varejao, hand slaps and a shimmy with arms extended.

With Pollard, hand slaps and two strums of an air guitar, an homage to Pollard's musical leanings.

And with LeBron James, Damon Jones performs an elaborate Matrix-like dance. Well, performed, anyhow.

"How about this, I'm gonna give you an exclusive," Jones said to two reporters an hour before Wednesday's game. "I'm changing it today…. You've got an exclusive, here first: I'm changing it."

Sure enough, during the endless pre-game pause, the king of handshakes and The King of basketball met and slapped hands. Jones swung with a roundhouse left; James ducked. Then came a roundhouse right; LeBron dodged again. Then they hugged.
Off the court, Damon cuts an equally unique figure, known for his potentially trend setting style. Cheryl Miller, asked to name the best dressed NBA superstar in the 2006 playoffs, said:
I've got to give it to Damon Jones. He's a man in touch with his feminine side. Very much in touch.
Sarcasm aside, players throughout the league call him for fashion tips.
Damon says he selects his game-night attire based on the magnitude of the contest.
It depends on where we are, the importance of the game and the amount of media attention surrounding the game. If it's a TNT or ESPN game, I would wear a suit and tie with my customary Gucci or Louis Vuitton slippers. If it's just a regular TV game, I would go with jeans and slippers.
USA Today reports Damon is not concerned that someone will surpass him as the league's No. 1 clotheshorse because the combination of his personality and sartorial splendor are unbeatable.
"You can hang on my style, but you'll never have my personality," he says. "That's not a problem."
Damon on the NBA's dress code:
I created the dress code. I am the dress code. A lot of guys were upset about the fact we had to put suits on. (But) when you go into the business world, you have to be presentable, you can't go into a Fortune 500 company with jeans, a T-shirt and do-rag on your head.
Damon's fashion prohibitions include:
Wearing white before Easter
Wearing linen other than in the summer
Wearing belts and shoes that don't match
Wearing oversized clothes
China's groundbreaking 2006 shoe contract, with Lei Ning showcasing Damon Jones as the first NBA player to wear Chinese sneakers, follows naturally from Damon's reputation as a snappy dresser. T-Shirts have been printed with "4.8" stenciled across the front to memorialize Damon's 2006 playoff shot heard round the world.
The Shanghaiist, reacting with a verbal pout, broadcast this headline:
Ever heard of Damon Jones? Didn't think so.
and went on to say:
Jones . . . is one of the league leaders in outlandish statements. This season alone he has called himself the "black Brad Pitt" and the best 3-point shooter on the planet (and No. 2, No. 3 and No. 4).
Not really sure why, but reading "The Black Brad Pitt" endeared him to me more than anything he has ever said offended me.
Strange things happen to Damon and this endears him to me, as well.
Moving to Vancouver in late 2000, Damon bought his dream car, which was promptly stolen and then returned. His parent's reaction? "What is going on in Canada?"
His first car, a black 1994 Cadillac purchased when he was 18, was "laid-back" and "fun."
Junior year at U of Houston, he bought his 2nd car, a Ford Explorer and totaled it. He wasn't hurt.
He went without a car until signing with Golden State (even in NJ – his friend, Sam Cassell, drove him around the Garden State), a Lexus, but they let him go and he let his car go.
His dream car? A 2001 Mercedes Benz. (Source: The Vancouver Province (Basketball Jones) / British Columbia, November 10, 2000)
On June 21, 2006, MSNBC reported Damon Jones as the latest pretexting victim; a crime so obscure, I had to look it up. The Federal Trade Commission (FTC) offers this definition:
Pretexting is the practice of getting your personal information under false pretenses. Pretexters sell your information to people who may use it to get credit in your name, steal your assets, or to investigate or sue you. Pretexting is against the law. [Editor's note: Specifically, the federal Gramm-Leach-Bliley Act]
Data brokers, resellers of consumer information, obtained 20 printed pages of Damon's cell phone conversations and tried to sell them on the Internet. The federal government was called in. Parts of my life have been fairly interesting but I have never once been able to say at a party, "the federal government was called in."
Even Michael Jordan can't escape King James' Prince. Dan Le Batard, reporting in The Miami Herald on May 1, 2005, relays this classic Damon tale:
He [Damon] has been calling himself the NBA's most electrifying player all season, even after playing for a nomadic nine teams in seven years.

Listen to him recall his first on-court conversation with Michael Jordan:

"I told him if he left me open again that I was going to burn him," Jones says. "He looked at me like, 'Do you know who I am?' "

And?

"So he left me open again," Jones says, "and I burned him."

Jones says he's in "Smarty Jones shape." That he can run forever "like Forrest Gump."

That he is the best trash-talker in the NBA and the best shooter in the NBA, too . . . the questions become, "Can Jones' game be as big as his mouth? Can he avoid becoming little him in large moments? Can he rise up and hit huge shots the way Horry and Fisher did?"

And the answers are yes, yes, yes.
One year later, Damon is asked by reporters how he feels about his role in Cleveland as a "specialist," as opposed to his Miami "you can count on me for everything" gig. Damon turns the tables:
It's a tough situation. If they sent you to the back of the comics, how would you feel?
However:
It's not about reputation or minutes. You have to be a professional. Any negativity at this time can damage team chemistry, and that's not what I'm about. (Source: Copley News Service, May 12, 2006 Friday, Todd Porter)
Cut to 2006. The NY Times is reporting on Cleveland's Eastern Conference playoff win, thanks to a gorgeous, what else, 3-pointer from "the most anonymous and unlikely player in the series."
Damon Jones, the most famous anonymous person you will ever meet
I love living, man. Every day I get up is a joy.
Fun Facts
Damon is married to Tina Thompson, star forward for the Houston Comets (WNBA).
ABC Channel 5 News (Cleveland, May 24, 2007) asked fans "who has the ugliest feet on the [Cavaliers] team?" Answer – Damon Jones.
The Cleveland Plain Dealer offered readers limited edition medallions of Cleveland Cavaliers players, and at least one has James' face with Jones' name. The paper thinks the goof may be one of a kind. The Medina woman who paid $2.99 for the medallion offered it for $35 dollars on eBay. The mistake [Editor's note – the word "ironically" fits nicely here] apparently was made in China, where the medallions were produced.