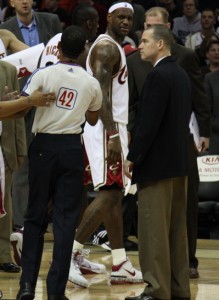 The crab dribble has been a hot topic since referee Bill Spooner called James for traveling when he was driving for a potential tying basket. James insisted he had executed a legal hesitation move that he practices all summer with assistant coach Chris Jent. Coach Mike Brown said the move is usually used in the post or as a player gets into the paint and is about to execute a power move to the basket.
James was stunned and disagreed with the call. "Bad call, we all make mistakes, and I think I got the wrong end of the bargain," said James "I watched it 10 times after the game and it was clearly a good play. We live with it."
James has no plan to remove it from his game. "I've done that move plenty of times and I believe it's a good move," he said after practice on Tuesday. "If they called it more consistently, then I guess it ain't a good move then and I'll change my game. But it's not called consistently."
However, the NBA and Spooner stand by the call. Spooner explained in an email: "3 steps on the move to the basket. Basic travel call."
An NBA spokesman said the league supports Spooner's call.
So what is a "crab dribble"?
James described it as a hesitation dribble he uses to slow down the defense before he accelerates toward the rim.
"If they take it away like they've done before with the hop step, I'll find a way to do something else," he said.
During his first two seasons, James often was called for traveling when he would hop on both feet while taking a layup. But the league cracked down on that move.
"How have I fared after that?" James said. "I'll be fine if they take this away, too."
ESPN's Jalen Rose discusses LeBron's 'crab dribble'
[youtube width="400″ height="343″]http://www.youtube.com/watch?v=DpQBD672HkQ&eurl=http://www.cleveland.com/cavs/index.ssf/2009/01/talk_the_walk_bemused_james_de.html&feature=player_embedded[/youtube]