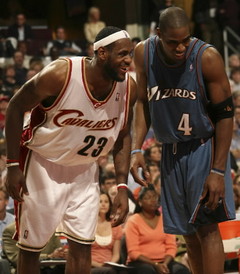 The trade deadline is coming this Thursday and Danny Ferry made it known that the team and the coaching staff are happy with the current roster.
Cavs GM Danny Ferry told Marc Stein on Sunday night that he'd "be surprised if they did anything at this point." However, when Ferry made the deal for Szczerbiak, one of the big selling points was that the Cavs could use the contract as an asset this year.
A deal for Antawn Jamison would give the Cavaliers the size they need at the 4 spot and a dynamic scorer. The Wizards are one of the worst teams in the NBA and they will not get much better when Gilbert is back. The Wizards owner is wasting money on a bad team and dealing Jamison will put them slightly below the cap next year.
However, Jamison might give the Cavaliers what they want now and maybe next year. He is 32 now and has 3 years left on his contract after this season. Can he stay healthy and continue to play at such a high level for the next three years?
With the current economic downturn, it makes you wonder if Cavs owner Dan Gilbert is feeling the heat. The Cavaliers are paying close to $19 million in luxury taxes this year. But next year they will go under the luxury-tax threshold if they let Wally walk.
Are you happy with the current roster or should Danny Ferry make a trade
Make a trade. (87%)
No, we can win it all with the current roster. (13%)
Loading ...