The Cavs have been a strong playoff team the past three years, twice making it to the Eastern Conference semifinals (2006, 2008) and once reaching the NBA Finals (2007). Only San Antonio and Detroit have won more playoff series than Cleveland during that time span. In 2007 and 2008, the Cavs were eliminated by the eventual NBA champions. Cleveland fans can therefore either be amused or annoyed that their team is consistently underrated by outside observers.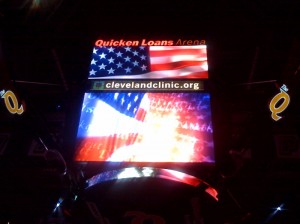 During the offseason, General Manager Danny Ferry attempted to strengthen the team's most obvious weakness by acquiring veteran point guard Mo Williams; now the Cavs have someone other than LeBron James who can create shots for himself and his teammates. Holdouts and injuries slowed the Cavs down for much of last season but this year the Cavs appear to have all hands on deck.
The Cavs have three former All-Stars–Zydrunas Ilgauskas (2003, 2005), Ben Wallace (2003-06) and Wally Szczerbiak (2002)–but LeBron James is the team's only current All-Star level player. However, the eight man rotation is solid, versatile and performs very well as a unit, particularly in the postseason.
Team Scouting Report:
Defense: James is a breathtakingly talented player who is still improving but there is no such thing as a one man team in the NBA-at least, there is no such thing as a successful one man team. Michael Jordan played on three sub-.500 teams, including the year that he scored 37.1 ppg, the highest non-Wilt Chamberlain average in NBA history; individually, Kevin Garnett, Paul Pierce and Ray Allen each missed the playoffs in 2006-07 but collectively they led Boston to the 2008 NBA title. Cleveland's success is built on three foundations: James' individual brilliance is certainly one of those cornerstones but rebounding and team defense are also crucial. Coach Mike Brown's challenge this season will be to make sure that Williams plus the youngsters (J.J. Hickson, Darnell Jackson and Tarence Kinsey) understand and accept the team's defensive mindset. It is very important that James continues to lead by example in this regard; like most young players, he was not a good defender initially but now he willingly accepts the challenge at that end of the court.
Offense: This is the area that most exasperates fans and commentators alike; the general consensus is that the Cavs should play at a faster tempo and be more creative. By his own admission, Coach Brown focuses more attention on defensive game plans than offensive schemes. Also, prior to the acquisition of Williams, the Cavs did not have anyone other than James who could push the ball up the court and make good decisions. The Cavs will most likely play at a faster tempo this season but the Cavs simply do not have enough dynamic finishers to really thrive in the uptempo game-and Brown, like most defensive-minded coaches, will always want to control the tempo to some extent to make sure that the Cavs can set up their half court defense and not give up easy baskets.
In the half court set, the pick and roll play is a staple for the Cavs (as it is for many NBA teams); James is usually the ballhandler, though this season he will be able to play off the ball at times when Williams is in the game. Ilgauskas generally fades to the wing after setting a screen and he has a nice shooting touch in the 15-18 foot range. The Cavs also like to use Anderson Varejao as a screener; even though Varejao's effective shooting range is confined to the paint, this play is still successful because he sets solid screens and rolls very aggressively to the hoop. Daniel Gibson, Wally Szczerbiak, Delonte West and Sasha Pavlovic will mainly be expected to nail outside shots when the defense collapses into the paint, though West, Pavlovic and sometimes even Gibson can also drive to the hoop, particularly if they catch the ball on the wing with a rotating defender running out toward them. Szczerbiak can use his size to post up smaller shooting guards.
James has the size and athleticism to be a very good post player but has yet to show the inclination to consistently punish smaller defenders by taking them down on the block, preferring instead to face up defenders on the perimeter and bull his way to the hoop off of the dribble. If James had a more reliable jump shot then he could incorporate that into his post game by backing his defender down and then turning away from the help defense to shoot a midrange, fadeaway jumper; that became Jordan's bread and butter move during his first comeback (1995-98, when he led the Bulls to three straight titles) and is also a part of Kobe Bryant's repertoire.
Individual Player Scouting Reports (Starters/Key Reserves):
LeBron James
Strengths: James is a physically imposing player whose powerful drives to the hoop are almost unstoppable. His court vision is remarkable and his ability to throw accurate, cross court passes punishes trapping defenses. His defense used to be a weakness but that is no longer the case; not only is he very adept at jumping into passing lanes to get steals as well as helping out in the paint by blocking shots but his understanding of team defensive principles has greatly improved. James is on the verge of being an All-Defensive Team caliber player.
Weaknesses: James is a below average free throw shooter and his jump shot is very erratic. For that reason, the better defensive teams in the league concede the jump shot to James while building a wall around the paint. As a last resort, teams foul James to make him earn his points at the free throw line.
Zydrunas Ilgauskas
Strengths: Ilgauskas is a very good perimeter shooter who can also score in the paint with awkward-looking but effective post moves. He is not much of a leaper but he uses his 7-3 height and long wingspan very effectively to block shots and rebound, particularly on the offensive glass. He has shot better than .800 from the free throw line the past three seasons and is a career .781 free throw shooter.
Weaknesses: Ilgauskas is not very mobile. He suffered several foot injuries early in his career, so even though he has been healthy in recent seasons there is always an underlying concern that those problems could flare up again as he gets older.
Ben Wallace
Strengths: Wallace is an energy player who rebounds and blocks shots. It is sometimes suggested that his teams have to play four on five offensively because he is not a scoring threat but that is not really a fair assessment; the defense must be aware of Wallace on the offensive boards and even though he does not get a lot of assists he is a capable passer, particularly against defenses that initially leave him uncovered and then are in scramble mode once the Cavs begin reversing the ball.
Weaknesses: Wallace is an atrocious free throw shooter who cannot reliably make a shot outside of five feet from the hoop. He is an undersized inside player who used to rely on athleticism and conditioning to outperform bigger and taller players but he has lost a step, so it is more difficult for him to be a dominant rebounder and defender. As he has gotten older he has naturally become more prone to suffering nagging injuries, most notably to his back.
Mo Williams
Strengths: Williams can create open shots for himself and others.
Weaknesses: Williams has been a subpar defensive player so far during his career and that will have to change in order for him to play heavy minutes for Coach Mike Brown.
Wally Szczerbiak
Strengths: Although he has yet to consistently show this during his brief time in Cleveland, Szczerbiak is a deadeye shooter from all distances (two point range, three point field goals and the three point line).
Weaknesses: Szczerbiak is a below average rebounder, passer and defender.
Anderson Varejao
Strengths: Varejao's energy, mobility, defense and rebounding are very important for the Cavs; they simply were not the same team in any of those areas when he held out. Varejao's playing style tends to annoy opponents and throw them off of their games.
Weaknesses: Varejao has little offensive game outside of the paint but at times he seems to not understand that.
Delonte West
Strengths: West is a steady pro who does not necessarily excel in any one particular area.
Weaknesses: Just as West does not have one area in which he excels, he also does not have one area in which he is seriously deficient. One quibble would be that he could draw more fouls but that depends a bit on whether he is used more as a spot up shooter or as a point guard; when he is playing point guard he should be able to get into the paint, initiate contact and create more free throw opportunities than he has so far during his career.
Daniel Gibson
Strengths: Gibson is a very gifted outside shooter who has proved that he can nail big shots in clutch situations. He is more athletic and stronger than he appears to be at first glance, sort of a 21st century version of B.J. Armstrong.
Weaknesses: Gibson is small for a shooting guard but does not possess top flight ballhandling or playmaking skills; he can play point guard for spot minutes, particularly against second unit personnel, but in general he needs to be on the court with someone who can be the primary ballhandler, such as James, Williams and/or West.
Sasha Pavlovic
Strengths: Pavlovic can make outside shots or drive to the hoop. He has the size and athletic ability to play shooting guard or small forward.
Weaknesses: Defense used to be a major weakness-at one time, he told Coach Mike Brown that his offense was his defense, an attitude that resulted in Pavlovic being glued to the bench for a while. However, Pavlovic has improved defensively. The big problem now is that ever since his holdout early last season he has not been completely healthy.
Miscellaneous Notes:
The Cavs hope that rookie J.J. Hickson will provide frontcourt depth. His playing time will be directly linked to how effective he is defensively. Tarence Kinsey started 12 games for the Grizzlies in 2006-07 but only played in 11 NBA games last season before signing with Fenerbahce Ulker of the Turkish Basketball League; he is a young, athletic player who could develop into a valuable reserve. Lorenzen Wright's production has steadily declined since he nearly averaged a double double in 2001-02 and he figures to be little more than a practice player at this stage of his career.
Team Summary:
Barring serious injury problems, the Cavs will once again perform better than many "experts" expect; the Cavs are fully capable of winning 55 games, contending for the best regular season record in the East and making another deep playoff run. The Boston Celtics have to be considered the best team in the East as the season begins but the Cavs are certainly capable of posing a serious threat to the defending champions.