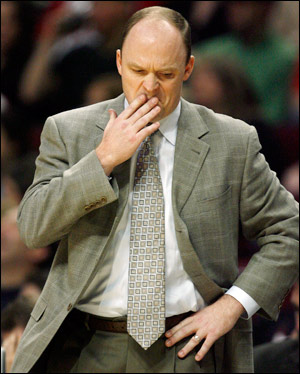 The Bulls fired Scott Skiles on Christmas Eve after a 9-16 start, the worst in the Eastern Conference.
"Hardly a day goes by that I don't demand accountability and stress results," Skiles told the Chicago Tribune. "Today was my day to be held accountable.""The fact that it's Christmas Eve is neither here nor there," Skiles told the Tribune. "The timing doesn't bother me. I'm not destitute."
The Bulls were booed by the home crowd during Saturday night's 116-98 loss to the Houston Rockets. Their next game is Wednesday at San Antonio.
"I don't have a long-term solution as of today," Bulls general manager John Paxson said. "I'm disappointed in the way we're playing, the way we're competing, the energy or lack thereof that we're playing with on the floor. I know expectations coming into the year were really, really high and we're not even close to those. I honestly believe we're a better team than we've played this year."
Paxson said he does not expect to hire a coach until after the season, with assistants Pete Myers or Jim Boylan likely taking over on an interim basis.
Source: ESPN.com