The wins and records just keep piling up for the Cleveland Cavaliers, who improved to 18-3 with a 114-94 victory over the Toronto Raptors. LeBron James had 31 points, five rebounds, four assists and three steals, surpassing Mark Price's franchise record for career steals (734) with a swipe that led to a fast break dunk shortly after the game began. Three other Cavs scored in double figures: Wally Szczerbiak (16 points), Zydrunas Ilgauskas (13 points, six rebounds) and Mo Williams (13 points, nine assists, one turnover). Ilgauskas broke Brad Daugherty's franchise career rebounding record (5227) shortly before halftime. James and Ilgauskas each received standing ovations during the first stoppage of play after they reached their milestone achievements.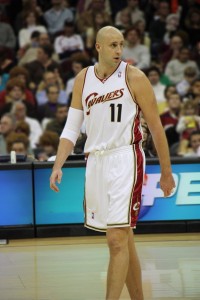 Those individual marks are impressive, a tribute to James' quickness and defensive improvement and Ilgauskas' longevity, perseverance and tenacity respectively but the Cavs set an NBA record that is astounding: they have now won nine straight games by at least 12 points each, breaking a tie for the NBA record that they had shared with Portland (1990-91), Chicago (1996-97), Detroit (2003-04) and Houston (2007-08); Chicago and Detroit won championships in those seasons, Portland made it to the Western Conference Finals after having the best record in the NBA and the injury-depleted Rockets put together the second longest regular season winning streak in NBA history. The Cavs have triumphed by an average of 21.5 ppg during their nine game winning streak and James has not played a minute in the fourth quarter in six of Cleveland's last eight games.
The Cavs' success this year is based on the three pronged formula that has served them so well in recent seasons—defense, rebounding and LeBron James' brilliance—plus a fourth prong added to the mix this summer: point guard Mo Williams, who has been better than advertised defensively and whose ability to create shots for himself and others (he ranks second on the team in scoring and assists) has helped to keep James fresh while involving the whole team in the offensive flow. The Cavs rank fourth in the NBA in scoring and second in the NBA in field goal percentage after ranking 24th and 27th respectively in those categories in 2007-08. Of course, being a high scoring team is hardly a guarantee of playoff success in the NBA, so the foundation of Cleveland's game plan under Coach Mike Brown has always been defense and rebounding and the good news for Cavs' fans is that the team's offensive improvements have not come at the expense of productivity in those areas: the Cavs lead the league in fewest points allowed and defensive field goal percentage after ranking ninth and 11th respectively in those departments in 2007-08. The Cavs led the NBA in rebounding differential last season and this season they are again leading but by an even wider margin.
Only one Raptors starter scored in double figures, point guard Jose Calderon (14 points); Joey Graham led Toronto with 17 points off of the bench. Chris Bosh is one of the NBA's top scorers this year but Ben Wallace and company almost completely shut him down (nine points, 11 rebounds, 4-11 field goal shooting); offseason acquisition Jermaine O'Neal was also a nonfactor (eight points, four rebounds, four assists, 2-6 field goal shooting). The Raptors have some talented players but they do not mesh well on offense and do not seem to have much interest in defense, though part of Toronto's defensive problems in this game were caused by committing live ball turnovers that resulted in fast break dunks; dead ball turnovers like a traveling violation, a three seconds call or a charge result in losing possession of the ball but at least you can set up your half court defense after those kinds of miscues, but when your players throw the ball to an opponent or get ripped while dribbling the ball then the other team almost always has a numbers advantage in a fast break situation. That is exactly what happened on the first two plays of the game, both of which resulted in soaring dunks by James, who had seven dunks overall. If the NBA allowed James to compete in the Slam Dunk Contest by submitting videos of his in-game dunks he probably would win hands down; against Toronto he took off from a variety of angles and distances and during his third quarter slam that gave Cleveland a 67-53 lead he put his left hand behind his head and buggy whipped a right handed dunk a la Karl Malone in the Mailman's prime.
Although the Cavs opened the game with a 16-5 run and led by as many as 19 points in the first half, some sloppy second quarter play by Cleveland enabled Toronto to creep back to within five points before James hit a long three pointer just prior to the halftime buzzer. However, the Cavs took over the game with a 23-4 run at the start of the third quarter; James had seven points and one assist during that burst. He then scored Cleveland's last four points of the quarter to put the Cavs up 90-67, earning a well deserved fourth quarter rest.
Thanks to the L.A. Lakers' loss at Sacramento, the Cavs now own the second best record in the NBA, just one and a half games behind the defending champion Boston Celtics. Cleveland has the best point differential by far this season (13.6 ppg), easily surpassing the Lakers (11.0 ppg) and Celtics (9.2 ppg). Considering that point differential is a good predictor of team success, if the Cavs stay healthy it is not unreasonable to expect them to win 65 games and possibly even become just the second team to win 70 games. The Cavs lost at Boston on opening night and have yet to play the Lakers but, having seen all three teams not only on TV but also in person, I think that the Cavs are the best team in the NBA right now based not just on numbers but also on their mindset, their discipline and the lack of any obvious weaknesses at either end of the court.
Ilgauskas offered a great summary of his team's championship level mindset: "We treat everybody the same. We respect everybody, but we fear nobody."