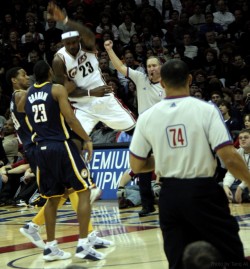 The Cavaliers only needed 11 points from Lebron James, his lowest since Oct. 31 of last year when he scored 10 against the Dallas Mavericks.Lebron spent most of the night  guarding Danny Granger who scored  33 points on him last month. This time, Lebron held him to four points.
"He's the key to their team and they aren't going to be as good if he's not on," said James. "I just took it upon myself to lock in on him and let my team on the other end take care of the offense. It was all about defense. We have enough guys who can score."
The victory is Cleveland's seventh straight and 15th in the last 16. They are 11-0 at the Q.
Varejao was a perfect 7-for-7 in the first half on Friday and finished the game 7-for-9, scoring all 17 of his points before intermission. Zydrunas Ilgauskas added 17 points, 15 came in the second half.
The Cavaliers held the Pacers 28 points below their season average and shot just 40 percent, just 31 percent after halftime. The Cavs blocked 10 shots, three from James and two each from Ben Wallace and Zydrunas Ilgauskas, and forced 17 turnovers.
"Defense," James said, "is our staple."
"It was a great team effort, led by LeBron," Cavs coach Mike Brown said. "LeBron is a guy who likes to take on challenges, and Danny had a good ball game last time he was here, and LeBron knew that."
"They're a great basketball team," Pacers coach Jim O'Brien said. "They're playing on all cylinders right now and we didn't have what it took."
The Pacers have lost nine of 12 overall and nine straight to Cleveland.