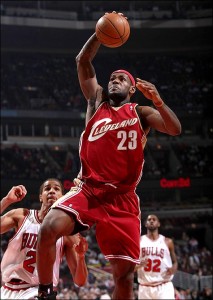 The Cavaliers played one quarter last night in their loss to the Bulls. Actually Lebron only played one quarter and the rest of the Cavaliers were cheerleading Lebron scoring 24 points in first quarter.
Lebron James finished the game with 34 points after his amazing 24 points, (10 of 10 shooting) in the first quarter. James ended up making 3-of-11 shots the rest of the game.
"LeBron got hot, he had whatever he had in the first quarter, and then everybody stood and watched," Brown said. "We have to get some movement to generate something offensively."
"The defeat came packaged with several lessons that already should have been learned. First, having a LeBron James-dominated offense doesn't always work. Second, when the Cavs don't play defense, they really don't give themselves much of a chance to win." Brian Windhorst said.
Luckily the loss didn't impact the Cavaliers standings because the Wizards lost to Detroit and the 76ers lost to Indiana. The Cavaliers still lead the No. 4 spot by two games.
"I am embarrassed with the way we played as a team throughout the game," said Cavs coach Mike Brown as his team dropped to 43-36. "Something's got to change for us to go into the playoffs the right way. Because right now we will get our behinds kicked if we are not focused and not trying to play the right way."
Wally Szczerbiak and Daniel Gibson were a combined 1-for-11 on Friday night. Szczerbiak canned an 18-footer in the fourth quarter and Gibson was scoreless on the night, coming up empty on six attempts.
Chicago took the season series against the Cavaliers, 3-1 – the first time they've won the season series against the Cavaliers since 2002-03.
The Sixers' Archie Clark was the last person to make 10 field goals in the first quarter against the Bulls. He did so in 1969. LeBron's 10 makes ties a United Center record for field goal makes in a quarter – held by New York's Jamal Crawford – and his 24 points falls one point shy of the mark held by Jalen Rose, who dropped 25 points on the Pacers in the fourth period in 2002.
[ad#468×60]