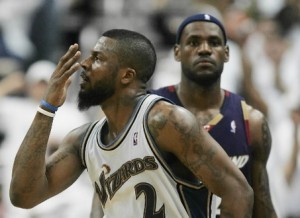 The Cavaliers took it on the chin at the Verizon center as the Washington Wizards blew out them out 108-72. LeBron led all scores with 22 points on 10-19 shooting. However, Butler, Jamison, Stevenson and Mason all had 15 or more points. The next leading scorer for the Cavaliers Devin Brown with 10 points.
After game 3 dud, Cavs must Soulja on
The Cavs that you watched for six months didn't just disappear, which you perhaps might have thought after Game 2. They are still very capable of losing their minds on offense and playing extremely passive on the road. Considering the two steps forward, one step back nature of the regular season it was perfect irony that the Cavs backed up their largest playoff win in franchise history with their most lopsided loss. Par for the course.
Blinded by the white: Cavaliers routed by energized Wizards
Chants of "over-rated" directed at LeBron James, who had 22 points, filled the arena. In attendance was DeAndre Way, better known as Soulja Boy, who wore the jersey of Wizards guard DeShawn Stevenson. This was Stevenson's counter to James' response to Stevenson's regular-season dismissal. James compared himself to hip hop mogul Jay-Z and Stevenson to Soulja Boy, considered by some rap purist as a one-hit wonder.
Getting the Word, James Has 'Fun' With the Fans
But as James stood at the foul line with 30.5 seconds left in the third period last night, with his team trailing by 28 points, Stevenson's word was recited in unison by more than 20,000 fans dressed in white: "O-VER-RA-ted! O-VER-RA-ted!" James smiled as the chant rained down. Then James missed the free throw off the back of the rim, giving the chant even more life.
Wizards' Arenas injures knee again after returning
Washington Wizards guard Gilbert Arenas, starting for the first time since November, left the game after injuring his surgically repaired knee in the first half Thursday night against the Cleveland Cavaliers.Arenas walked off the court late in the first half with an obvious limp. The team said he had a bone bruise in his left knee and would not return. He was listed as day-to-day.
Wiz crush Cavs, still trail 2-1
"When our back is up against the wall, we always find a way to get it done," Washington's Antawn Jamison said. "It starts from your head coach down to your captains. We never keep our head down. We never sulk or think it's over with. We just fight and continue to play to the end."