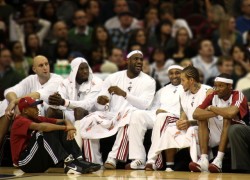 Lebron James played a career low 17 minutes- adding 14 points and three blocks. Zydrunas Ilgauskas led the team with 17 points in just 13 minutes during the Cavaliers dismantiling of the Oklahoma City Thunder.
The Cavaliers started the game with 13 points lead and coasted home from there. By half time, they were up by 34-points, the biggest lead in franchise history.
"We want to come out and win every game," asserted James. "Right now we are playing the best basketball we'e played in a long time. We have to continue this hunger and showcase our talent every time we go out."
J.J. Hickson played career-high 31 minutes and finished with a career-high 14 points and game-high four blocked shots off the bench.
The Cavaliers' 12-3 start – including a perfect 8-0 record at home – is the best start in franchise history. They passed the 1976-77 and 1988-89 teams that began the season 11-3 before dropping their fourth game.
"Most teams go through some sort of hot streak during the course of a season, but the depth of domination the Cavaliers are displaying these days is getting historic." The Cavaliers beat reporter Brian Windhorst said.
"It's not just that they are winning or that they are blowing team after team out, but they are excelling in nearly every phase of the game."
"It just goes to show how well equipped this team is, how focused we are night in and night out," Mo Williams said. "Even the rookies have come in and played really well."
NBA highlights for November 26th:
[youtube]http://www.youtube.com/watch?v=nqPfKPAsuKQ[/youtube]