Lebron James scored 34 points including the final eight points over the last 2:42. Dwyane Wade had 36 but wasn't enough to rally his team from an 11-point deficit in the fourth quarter.
The two superstars did not disappoint. James was 8-for-20 from the floor, and 16-of-18 from the stripe, and a game-high seven assists, and four rebounds, two steals and a blocked shot. Wade's matched James almost in every category, going 9-for-21 from the floor and 15-for-21 from the line en route to a game-high 36 points.
Mo Williams made five 3-pointers and scored 25 points for the Cavs. J.J. Hickson, making his third consecutive start, had a career-high 18 points.
Over the last three wins, Mo Williams is shooting a scorching .614 from the floor. Over the past two games, Mo has gone 9-for-12 from long-distance.
This was a high energy game that included many highlights. The main one was a dunk by Wade on Anderson Varejao which you can watch on the above video. Give Varjao a lot of credit for trying to block Wade. Lebron said that dunk might make the NBA's all-time top ten.
Later, Varejao and Wade drew a double technical for a heated exchange moments after the dunk.
"It's like being in the backyard with your big brother or little brother," smiled James. "You don't want him to get the upper edge. You don't want them bragging and talking about it all week."
"We knew because of D-Wade it was going to be a high-energy game," said the Cavs' Shaquille O'Neal, who scored 14 points in a return to his former home court. "It's very, very exciting watching him and LeBron going back and forth."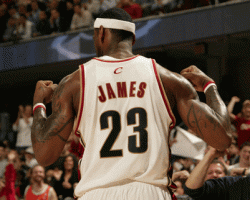 Lebron James is planning on switching jersey numbers after this season from number 23 to number 6. Also, James wants to lead a movement to get every player who wears No. 23 in the league to give it up as a tribute to Jordan.
"I just think what Michael Jordan has done for the game has to be recognized some way soon," James said. "There would be no LeBron James, no Kobe Bryant, no Dwyane Wade if there wasn't Michael Jordan first. He can't get the logo, and if he can't, something has to be done. I feel like no NBA player should wear 23. I'm starting a petition, and I've got to get everyone in the NBA to sign it. Now, if I'm not going to wear No. 23, then nobody else should be able to wear it."