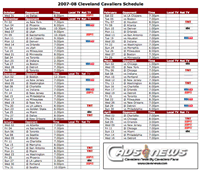 The Cavaliers will open the 2007-08 season at the Q October 31 in a nationally-televised game against the Dallas Mavericks. (Download Schedule)
The Cavaliers will then play host to the New York Knicks before heading out West for a six-game stretch from Nov. 4-12 with games at Phoenix, Golden State, Utah, Sacramento, the L.A. Clippers and Denver.
The CavaliersÂ' home schedule includes 20 weekend games with eight Friday games, five Saturday games and seven Sunday games. The Cavaliers are slated to appear on 31 national television broadcast including a Christmas Day home game vs. the Miami Heat.
The Cavaliers will play nine games on ESPN, Eight games on TNT, Five games on ABC, and Nine games on NBA TV.
The local television broadcast schedule on FSN Ohio and simulcasts scheduled for WUAB TV will be announced at a later date. All games will be broadcast on WTAM Radio.