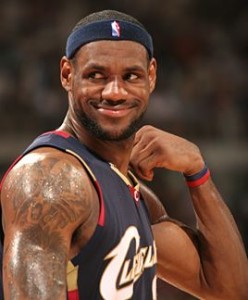 Teams are clearing their books to prepare for the summer of 2010 which is shaping up to be the most prolific free-agent season in NBA history. That summer will feature most of the 2003 class including our own Lebron James.
Lebron potential availability is fueling the media. The purpose of this post is to keep up with contract facts and keep fans updated with some of the articles and stories about this subject.
Some facts Cavaliers fans and other wishful NBA fans:
NBA collective bargaining agreement permit the Cavs to exceed the salary cap to sign James.
Cavs can sign James for six years while others can sign him for five.
Based on a projected $64 million salary cap, James could sign with the Cavs for about $133 million in 2010. Other teams could sign him for roughly $102 million.
The Cavs can give Lebron 10.5 percent raise per year; other teams can offer 8 percent raises.
"Currently, the Cavaliers are in best shape to win a championship with Lebron. The owner and management are committed to building a championship-level team for years to come.
"For LeBron it is about more than just dollars," Cavs General Manager Danny Ferry said. "As an organization we have committed to building a championship-level team for years to come. There's a lot of attention and speculation about his future. LeBron has conveyed that he enjoys playing and living in Northeast Ohio."
"Every day it seems like [the media] has me going someplace else," James said two weeks ago when the Pistons traded Chauncey Billups, significantly clearing their books for 2010. "I'm very happy here, I have said that over and over."
James made his strongest comments yet on the speculation at a rally encouraging people to register to vote last month when he said: "I love you, Cleveland . . . I love Ohio and I'm not going anywhere."
"When I decide to make that decision, it is basically to put me in a position where I feel like I can win multiple championships," James said before scoring 31 points in a victory Tuesday at New Jersey. "If it's staying here, then I will be here. If it's moving elsewhere, then I will have to look at all my options."
Other available free agents:
The summer of 2010 is not only the summer of Lebron. The following players will be available as well:
Dwyane Wade | Chris Bosh | Amare Stoudemire | Paul Pierce
Ray Allen | Tyson Chandler | Manu Ginobili | Richard Jefferson | Joe Johnson
Tracy McGrady | Yao Ming | Steve Nash | Dirk Nowitzki | Michael Redd
---
Where will Lebron James be after 2010?

Cleveland Cavaliers (52%)

New York Knicks (25%)

Else where (16%)

New Jersey Nets (6%)

Loading ...
---
Media Coverage Around Lebron James 2010 Contract:
Subscribe to our newsletter or RSS feed to get full coverage of the "Summer of Lebron"
– Just like MJ, LeBron could pass on the Knicks (Bulls.com 12/1/2008)
Once upon a time, not so long ago, the Knicks offered a ton of money to a future Hall of Famer free agent guard. But Michael Jordan turned them down, and LeBron James could do the same in 2010.
– LeBron leaving Cleveland? 'It's not a foregone conclusion (ESPN 11/25/2008)
– Bracing for the 2010 sweepstakes (SI 11/20/2008)
– Teams Prepare for the Courtship of LeBron James (The New York Times)
– Cleveland Cavaliers forward LeBron James fielding contract questions (Cleveland.com 11/17/2008)
– LeBron's a going concern (ESPN: 11/7/2008)
– Summer Forecast: Where will LeBron be in 2010-11? (ESPN 9/16/2008)
– LeBron aware that Nets, Knicks looking to snag All-Star in future (ESPN 7/1/2008)
– Free Agents: 2009 and 2010 (ESPN: 11/10/2008)