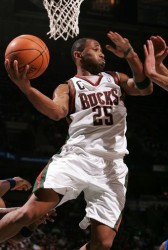 According to a NBA executive, The Milwaukee Bucks have traded point guard Mo Williams to the Cleveland Cavaliers in a 3 team 6 player deal.  The Bucks will receive shooting guard Damon Jones from the Cavs, while also acquiring power forward Adrian Griffin and Luke Ridnour from Oklahoma City.  Form the deal, Oklahoma City will acquire Joe Smith and the Bucks' small forward Desmond Mason.
According to Brian Windhorst of the Akron Beacon Journal, "Williams scored 17.2 points per game with the Bucks last season. He averaged 6.3 assists in 66 games, shooting 48 percent from the field, 86 percent from the free-throw line. He was drafted out of the University of Alabama by the Utah Jazz in the second round of the 2003 NBA Draft.  Williams has five years and $43 million left on a contract that he signed last summer. He'll make $8.5 million this season and owns a player option for 2012-13 at $8.5 million."
With this move, the odd man out currently is restricted free agent Delonte West who still does not have a contract with the Cavs.  The Cavs still have a qualifying offer of 1 yr at 2.8 million that they have made for West so that he can continue to don the Wine and Gold of the Cavaliers.  No word yet on any progress which has been made between the two parties.
The Cavaliers felt comfortable with this move based upon the glimpses of excellence that they saw from J.J. Hickson.  Hickson was the Cavaliers' 1st round pick out of NC State where he averaged over 17 a game during the Las Vegas summer league.  He will be looked upon to pick up the production that Joe Smith contributed to this past season.  He will be looking for playing time inside along with Ben Wallace and Anderson Varejao.