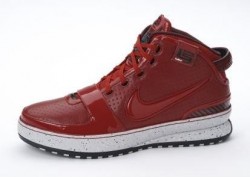 If you are wondering how big and how much money Lebron, NBA, and Nike could make if Lebron decide to sign for the Knicks in 2010, then take a look at these special shoes Nike made for Lebron just for tonight's game at the Garden.
This is the third consecutive year Nike has designed a special New York edition version of Lebron's Zoom shoes. Last year, Nike made a Yankee flavored shows with pinstripes and other features. Two years ago, Nike opened a temporary museum and store in the SoHo district of Manhattan in an effort to drive sales.
"The "Big Apple" Zoom LeBron VI sneakers take inspiration from one of LeBron's favorite cities, New York, by incorporating the color red throughout the shoe as a tribute to the city's famous nickname." according to Nike's press release
The new show will be available in New York City on Friday, November 28. The shoe will be available at retail locations throughout the city such as Niketown, House of Hoops plus 3 other Footlocker stores and will retail for a suggested price $160.