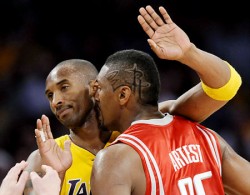 The Los Angeles Lakers are close to reaching an agreement with Houston forward Ron Artest, the Los Angeles Times reported.
Artest, an unrestricted free agent, is expected to agree to terms Thursday after spending the day meeting with Lakers executives.
In a text message to ESPN.com on Thursday night, Artest wrote: "I am happy to say I am goin' to L.A."
ESPN The Magazine's Chris Broussard reports that Artest and the Lakers have reached a verbal agreement on what is believed to be a three-year contract worth an estimated $18 million. Wednesday is the first day free agents are permitted to sign new deals.
Artest was initially courted by Lebron James and the Cleveland Cavaliers.
According to other reports, the Cavaliers have interest in Trevor Ariza and Rasheed Wallace. However, it was reported that the Celtics sent the big three to meet with him (I am not sure if he is worth that much).
Also, according to Associated Press, Rockets general manager Daryl Morey met with the free agent in Las Vegas in hopes to recruit the Lakers forward to Houston.
Cavaliers options are not many at this point. They might look into a sign and trade for Wally Szczerbiak or Anderson Varejao.