In a rare phone interview with ESPN, Anderson Varejao expressed his frustration with the Cavaliers and Danny Ferry. "I just want to be treated fairly and I don't think Danny's done that." he told ESPN.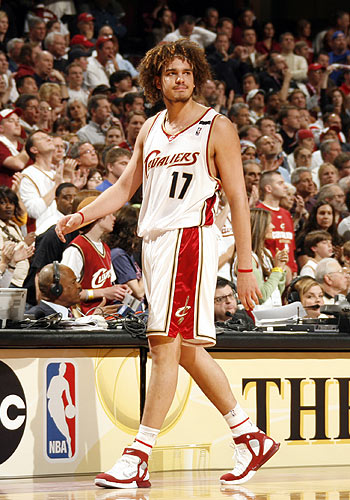 "I wanted to come back," he said. "I love the fans and I really love my teammates. But there are others there that have made it very difficult. It's gotten to the point that I don't want to play there anymore. I'm just hoping for a sign-and-trade at this point."
But Ferry is not ready to make the same mistake the Cavaliers made when they signed, yes you guessed it, Danny Ferry himself.
Ferry refused to sign with the Los Angeles Clippers and decided instead to play in Europe and eventually forced the Clippers to trade him to Cleveland.
Anderson turned down the Cavs' one-year, $1.2 million offer. He also refused Cleveland's opening offer of five years, $20 million, and then its latest offer of five years, $32 million, with a starting salary slightly below the midlevel exception.
Ferry says the Cavs' offer is fair.
"We believe the Cavs' offers are very much in line with what is widely perceived throughout the industry as fair market value. We have also included bonuses that would serve as upside protection for Anderson," Ferry said."We are working to make decisions that are best for short- and long-term interests of the organization, yet clearly stepping up and offering him long-term security at a very fair market value."Varejao is talking down on some of the players on the team, "I'm willing to go and play in Europe if that's what it takes," Varejao said. "I know it's a risk and I'll be a restricted free agent next year, but at least I'd be happy. I don't think I'll be happy in Cleveland knowing that I was almost the lowest-paid player there for three years and am still paid much less than players on the team that I outperform. Life's too short to be unhappy."
Varejao averaged 6.8 points and 6.7 rebounds last season.