13 WHAM.COM out of Rochester reports that the Buffalo Bills got a reprieve Thursday. Local sports radio had a new villain – LeBron James and his Cleveland Cavaliers."Many fans, whether they want to admit it or not, were sold a bill of goods," said Hot Talk 1280 WHTK host John DiTullio.
Rochester fans dethroned King James during the first NBA game here in more than 20 years.  "Didn't they get an assurance LeBron James was gonna play?" said one caller to DiTullio's show.  About 9,400 people attended Wednesday's game, paying from $25 to $150 to see the superstar.  LeBron, however, was benched the entire game, prompting loud boos from the crowd. Some people held up signs saying "LeBron dissed Rochester" and "LeBron ruined my childhood."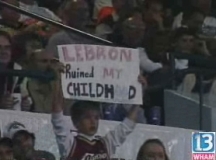 A promoter's radio ad for the game touts LeBron as a main attraction.  The ad said, "Don't miss your chance to see NBA All Star and Olympian LeBron James in action as his Cavaliers take on the Raptors."
Blue Cross Arena Manager Jeff Calkins was disappointed the marquee player didn't tear up the court.  "I can understand sitting a player out, but I didn't want it in my city," he said.  Calkins said there are never any contractual guarantees in team sporting events that stars will play. He said promoters may want to look at how such events are marketed.
"I think all learned something this go round and I think we will all be more cautious next go round," he said.  The game's promoter, Blue Ridge Sports and Entertainment referred our questions to the Cavaliers.  Team Vice President for Communications, Tad Carper, said, "We feel bad…It's something we'll take a look at in the future."  Carper said the team was not sorry it benched LeBron, but that fans may have been misled.
"It's something we'll take a look at in the future."  Carper said the Cavaliers would be happy to return to Rochester. But it remains to be seen if fans would welcome them back.